Testingfg of Ads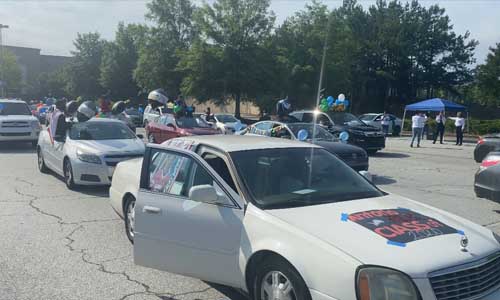 Students and their families came from throughout metro Atlanta today, May 22, for a parade in the city of Stonecrest. The morning celebration, hosted by the nonprofit, JABY Inc., included nearly 100 seniors from several high schools, members of the DeKalb Couty Police Department, DeKalb County Sheriff's Office, and DeKalb County Fire Department.
DeKalb Superior Court Clerk Debra DeBerry kicked off the parade with a welcome and DeKalb Tax Commissioner Irvin Johnson offered congratulations to the students, who were excited to be part of the Class of 2020. Like many students across the country, they were determined to celebrate their educational milestone in spite of the COVID-19 pandemic, which shutdown many traditional graduation ceremonies nationally.
The parade, which began at 9:45 a.m., traveled from the Kohl's parking lot at The Mall At Stonecrest to New Birth Missionary Baptist Church.