Testingfg of Ads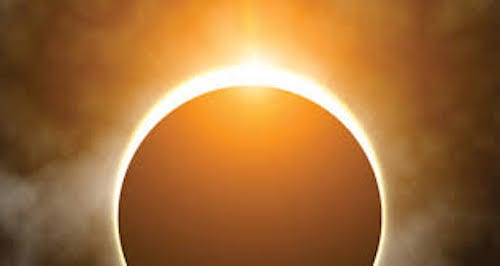 Several metro Atlanta schools systems have announced extended hours on Aug. 21 due to the solar eclipse expected. School officials are planning to delay dismissal as millions around the country witness the rare, wondrous spectacle. According to the National Aeronautics Space Administration (NASA), the solar eclipse will occur across North America around 1:02 p.m. and end at 4 p.m. The peak time—where the moon blocks all direct sunlight turning the day into darkness—is expected to occur around 2:32 p.m. and end at 2:39 p.m. in the Atlanta area. A total eclipse of the sun has not occurred since 1918, NASA said.
The DeKalb County School District will extend its school day by one hour to provide safe viewing and instructional opportunities related to the once-in-a-lifetime experience. Parents are encouraged to contact their child's school to determine the what will be the exact dismissal time on Aug. 21.
"The solar eclipse offers a very special opportunity to experience science and the universe at work. We want our students to have a safe and comprehensive viewing moment, and extending the school day allows for that," said DeKalb Schools Superintendent R. Stephen Green. "We will take the appropriate steps to remind our families of this scheduling change and to minimize its impact."
In DeKalb, the Salem-Panola Library in Lithonia is giving out take-and-make kits containing two free solar glasses while supplies last. The eclipse glasses are provided by the National Center for Interactive Learning and STAR Library Education Network (STAR_NET) with the support of Google, NASA, the Gordon and Betty Moore Foundation and the National Science Foundation. Funding was provided by the Friends of the Salem-Panola Library.
The Rockdale County Public School System will dismiss elementary schools at 3 p.m.; high schools at 3:45 p.m.; and middle schools at 4:30 p.m.
"Safety is our first priority. This delayed dismissal will ensure that neither students nor employees are on the roadways during the time of the eclipse," the Rockdale School District said in news release.
Rockdale parents are welcome to check out their children earlier than the delayed dismissal time, if they choose. However, no checkouts will be allowed during the peak time of 2:15 to 3 p.m.
Gwinnett County Public Schools (GCPS) will delay dismissal by one hour during the solar eclipse. Grayson Library Branch, 700 Grayson Parkway, is giving away solar eclipse sunglasses
"It would be difficult to monitor students who are being dismissed or those who are riding on school buses during the eclipse. Ordinary sunglasses, even very dark ones, are not safe for looking at the sun. In addition to addressing safety concerns associated with the eclipse, the delay will provide more time for us to make this a special education event for our students, allowing us to organize safe and engaging viewing experiences for students," Dr. Jonathan Patterson, associate superintendent for curriculum and instructional support.
Atlanta Public Schools will extend the instructional day by 30 minutes for all of its students. APS has ordered over 50,000 solar glasses for all students to safely view the eclipse created a teacher toolkit containing grade specific activities and safety tips. Ordinary sunglasses, even very dark ones, are not safe for looking at the sun. Schools will be sharing their plans and experiences with the eclipse on social media using hashtag #APSeclipse.