Testingfg of Ads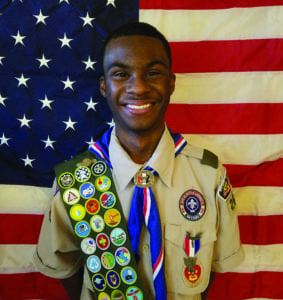 Mercer Butts, 16, of Stone Mountain, has earned the highest award the Boy Scouts of America offers to Scouts, the Eagle Scout Award.
Butts received the award after earning 60 merit badges and completing a campus beautification project to benefit Tabitha's House for his Eagle Scout Service Project.
A member of Troop 2600 chartered to The House of Hope Atlanta (The Greater Travelers Rest Baptist Church), Butts is one of approximately seven percent of all Boy Scouts who ever achieve this rank.
Mercer is the son of Markus and Sonya Butts. A leader in both Scouting and the community, Butts, the first Eagle Scout in the history of Troop 2600, served as Senior Patrol Leader, and Chaplain. He is an 11th grader at DeKalb Early College Academy and is a dual enrollee at Georgia State University, where he is an active member of the History and Politics Club.
The Eagle Scout rank carries a special significance both in and outside of Scouting. Butts joins other prominent Americans including former President Gerald Ford, astronaut Neil Armstrong, filmmaker Steven Spielberg, and former Secretary of Defense Donald Rumsfeld. In 2013, 690 Atlanta-area Scouts earned the Eagle Scout rank. In doing so, these Scouts contributed approximately 114,814 hours of service to improving schools, parks, churches, and communities through their Eagle Scout projects.
Butts was recognized in an Eagle Scout Court of Honor presentation on Oct. 23 and received over 20 awards and commendations including congratulatory letters from President Barack Obama and former Presidents George W. Bush, William "Bill" Clinton, George H.W. Bush, and James "Jimmy" Carter.