Testingfg of Ads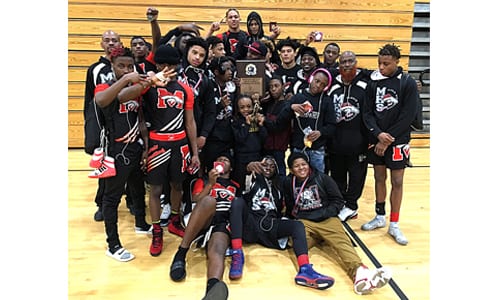 by Mark Brock, DCSD Athletics
The McNair Mustangs rolled to a 70.5 point victory over Southwest DeKalb to capture the school's second ever William S. Venable DCSD Wrestling Championships title at Druid Hills Middle School recently.
Five gold medals, two silver medals and one bronze medal were collected by the Mustang wrestlers on the way to their second title in seven years while breaking Dunwoody's two-year reign. McNair scored 262.5 points followed by Southwest DeKalb (192) and Decatur (169) as the top three teams.
Senior Masud As-Siddiq led the way for the Mustangs becoming a three-time county champion by defeating Southwest DeKalb's Coby Ficklin for the gold to win back-to-back titles in the 120 weight class. He won the gold at 106 in 2015.
Other gold medal winners for the Mustangs included Deejay McNeal (113), Torrance Dumas (152) improved to 35-1, Terrance Randle (182) and Adamus Brooks-Bey (195). Randle had won the 182 silver a year ago before taking the title in 2018 against Dunwoody's Parker Hughes.
McNeal was also recognized as the best overall wrestler for the Championships with his performance on the way to the gold in the 113 class.
Antonio Mills (132) and Adriean Collins (220) were the two Mustang silver medalists with Keyon Fisher (160) finishing with the bronze.
Southwest DeKalb's 192 point total included one gold medal, two silver medals and four bronze medals. Eris Walker improved from a bronze a year ago to defeating McNair's Collins for the gold at 220 to lead the way for the Panthers.
Silver medals went to Coby Ficklin (120) and Rodre Fears (126) while Alfonzo Farley (132), Ericq Hall (138), Mikhael Hall (145) and Xavier McKinney (152) collected the bronze medals.
Decatur's Kaden Span became a two-time county champion with his win at 132 after taking the 126 title a year ago. Jared Lester (106) joined his teammate on top of the podium.
Stephenson which finished sixth in the team standings (116) was led by Taquel Young (32-0) with a gold at 145 and teammate Jamal McDonald with the gold at 285.
Lakeside's Cody Domingue won the gold medal at 170 to lead the Vikings (123.5) to a fourth place finish in the team standings.
Other gold medal champs were Lithonia's John Webb (126), Chamblee's 26-2 Bart Turney (138) and St. Pius X's 21-1 Max Spearman (160).