Testingfg of Ads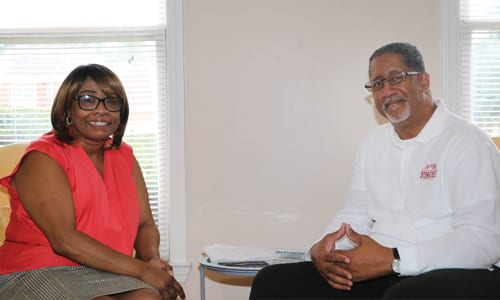 Stonecrest Mayor Jason Lary announced he is battling cancer. In an exclusive interview with On Common Ground News, he discussed his health challenge, his medical regimen in the face of cancer and the future of the city. 
Question: What is the status of your health?
Answer:  I have prostate cancer. I found out about three months ago. The problem started with painful kidney stones that I could not shake. Further testing and a biopsy revealed that cancer was present. 
Question: Were you surprised to learn you had cancer? 
Answer: Shocked. Very shocked. No one in my family has had cancer. The only time I've been in the hospital—before this happened—is to visit somebody. When I learned that I had cancer, it forced me to take a different course. For five years, I had worked on building the city, getting the referendum done to create the city of Stonecrest. We worked tirelessly and I was neglecting myself personally and my family. We were all making a lot of sacrifices.
This was a wake-up call for me. It's all God's will. It has forced me to become more healthy. Doctors told me I had to lose 30 pounds. I've lost 10. I used to drink three sodas and two cups of coffee every day. Now, I'm down to one cup a week. I wasn't walking 10 yards to the car. Now, I'm walking 10 miles a week.     
Question: What stage of cancer are you facing? 
Answer: There are three stages: high, medium and low. I am in the lower medium stage. When it's caught early, men can have an 80 percent chance of beating it and I believe that my outcome will be good.    
I have completed my pre-treatments so far. I start radiation in the middle of October and that will last for about 30 days or so. After that, doctors will evaluate and tell me if I need to continue treatment or have surgery. 
Question: Who will run the City Council meetings while you are on medical leave?  
Answer: Mayor Pro Tem George Turner will run the meetings. However, I'm still going to try to come as often as possible. I plan to fulfill the one third attendance requirement ( for a three-month period) stated in the charter for elected officials. I will make the two meetings in October and then we will have to see how well I'm doing after radiation begins as to whether I will be able to make the November and December meetings.       
Question: What is the future of the city?  
Answer: We are still on mission. We're going to stay focused on our Development Authority, getting our parks in order, repaving our roads, everything that we have promised our citizens. We're going to clean up Stonecrest. In fact, that will be my next topic for "Straight Talk With the Mayor" on October 8th, 7:00 p.m. at City Hall.  
We plan to contract with landscape companies to beautify gateways and other areas of the city. We will be looking at putting out a Request for Proposal for landscaping early next year. 
We will still have a zero millage rate for the 2019 tax year, making Stonecrest the most inexpensive city in DeKalb County to live in.
We're celebrating Stonecrest Fest Oct. 3-6 and I'm really excited about that. The festival is going to feature a week-long celebration of activities, including a free concert on Saturday starring violinist Ken Ford. I will be recording a radio commercial advertising the festival that will run on 87.7 FM.      
Question: What message do you have for residents and Stonecrest business owners? 
Answer: First of all, I want to thank all of those who have reached out to me for their prayers and well wishes.
 I want people to feel encouraged and know that they still have the same quality of  leadership that we started with. I am going to continue to work hard on their behalf. Everything is going to be just fine. What I'm dealing with concerning my health is just a bump in the road. I'm not going to stop fighting.