Testingfg of Ads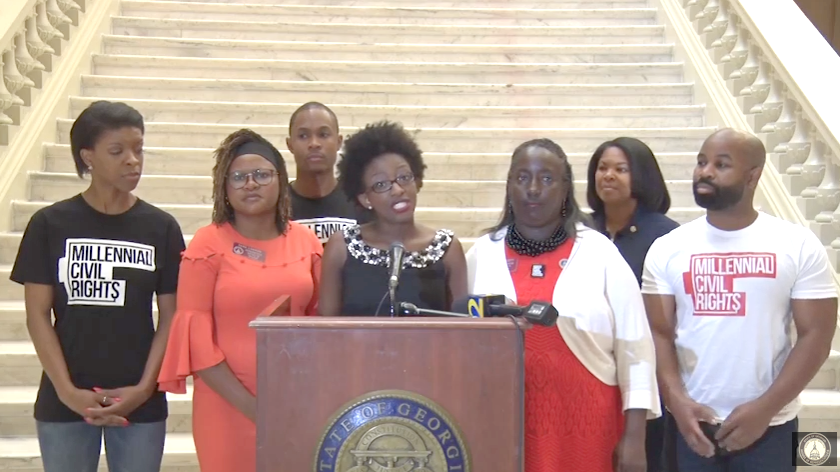 As families grieve for their loved ones who were killed in two recent mass shootings—one in El Paso, Texas, the other in Dayton Ohio—state lawmakers, community leaders and others are calling for tougher gun safety legislation.
"Enough is enough. The horrific mass shootings that took place in our communities this past week are unacceptable and unfortunately becoming too commonplace," said State Rep. Darshun Kendrick, who held a news conference with members of the Millennial Civil Rights group at Georgia's Capitol on Aug. 8.
"…Although we are hundreds of thousands of miles away…, either one of those tragedies could have taken place right here in the state of Georgia," said Kendrick.
Kendrick and the millennials were not alone in pressing for change. Atlanta Mayor Keisha Lance Bottoms said she joined 214 bipartisan mayors from across the nation signing on to a letter from The United States Conference of Mayors urging immediate action from the federal government on gun safety legislation.
"Public servants—from the local level to Washington—have an obligation to protect the lives of those we are entrusted to serve," said Mayor Keisha Lance Bottoms. "We need strong leadership willing to take the necessary measures to prevent heinous, senseless acts of violence. If we are truly serious about preventing one more family from knowing the pain of losing someone to another gun tragedy, we need Congress to enact commonsense gun safety legislation immediately."
Patrick Crusius, 21, was identified as the suspect in the El Paso, Texas, Walmart shooting that left 22 dead on Aug 3. Authorities say Crusius, who is white, told them his attack was motivated by his objection to Hispanics. Crusius is facing capital murder charges.
Connor Betts, 24, of Bellbrook, Ohio was identified as the suspect in the Aug. 4 Dayton, Ohio mass shooting that left 9 dead. Six of the nine victims were African American and one of the victims was Betts' own sister. Betts, who was white, was killed by patrol officers 30 seconds after opening fire in the Oregon Historic District, a popular nightlife neighborhood in Downtown Dayton, OH.
As of Aug. 4, there have been 251 mass shootings in the U.S., according to data from the nonprofit Gun Violence Archive, which tracks mass shootings in the country. The Gun Violence Archive defines a mass shooting as any incident in which at least four people were shot, excluding the shooter.