Testingfg of Ads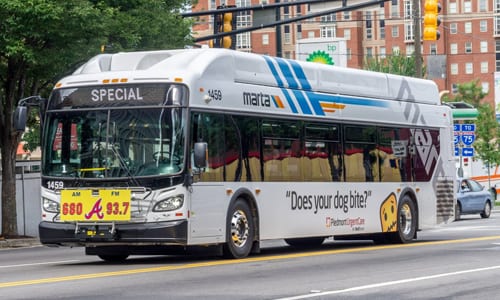 MARTA has announced plans to replace 25 percent of its bus and paratransit fleet over the next six years.
MARTA will introduce 387 buses and 211 mobility vans from now until 2024. The new buses feature Wi-Fi, high definition security cameras, high capacity heating and air conditioning, including heated entry and exit floors to prevent icing, and mobile ticketing. The new mobility vans have three wheelchair positions, non-slip flooring, and ambulatory seats with three-point seatbelts.
"We are excited to introduce these state-of-the-art buses and vans to MARTA's fleet," said MARTA Chief Operating Officer Rich Krisak. "The vehicles are safer, more comfortable, and feature upgrades that make the ride more enjoyable for passengers and operators."
A ribbon-cutting ceremony for the new fleet will be held on Feb. 5, 10 a.m., at the Five Points Station in downtown Atlanta, on the Alabama Street side.
The new vehicles roll out in March. They were paid for with the local sales tax collected in Fulton, DeKalb, and Clayton Counties, and the City of Atlanta.