Testingfg of Ads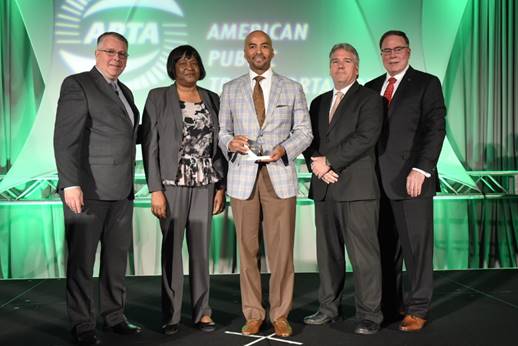 ATLANTA—MARTA is celebrating top honors for heavy rail safety. The American Public Transportation Association (APTA) recognizes rail systems from across North America for excellence in operations, security and safety for both light and heavy rail services.
This year, MARTA received the GOLD Award for Safety in Heavy Rail from APTA, which highlights the Authority's commitment to performance quality, best practices, and safety standards. Ridership, expanding access, advances in engagement and overall success in helping to improve system safety also factor into the award selection process.
"This is a huge honor for MARTA as we continue to work to provide the safest, most affordable transportation option in our region," said MARTA GM/CEO Keith Parker. "This is a well-deserved distinction that truly reflects the efforts of all our employees and confirms what many Georgians already know: MARTA delivers safe, high-quality transit options."
During this month's 2017 APTA Rail Conference in Baltimore, Maryland, MARTA's enhancements in Wayside Access/Standard Operating Procedures and Right of Way (ROW) protocol upgrades were also noted as the Authority's major accomplishments in safety.
"MARTA's success is a reflection of the attention to detail and daily dedication to safety shown by each of our 5,000 employees in providing the essential services that the entire Atlanta region depends on," said Elayne Berry, MARTA AGM of Safety & Quality Assurance.