Testingfg of Ads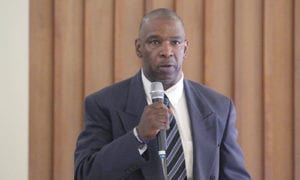 By Ed Williams
DeKalb County was instrumental in forming MARTA in1964 and the 1971 contract which funded MARTA was fueled by support of DeKalb voters.    It was a DeKalb legislator who sponsored the bill in the state General Assembly to begin MARTA in the early sixties.
There are four DeKalb MARTA board members – one of them is supposed to be a resident of South DeKalb that lives south of the boundary of City of Decatur. However, none of the current DeKalb MARTA board members meet that criteria.  We are suffering for the lack of representation. Indeed, the MARTA Act is being violated.
Public transportation and accommodations is a civil right and we, as citizens of the state of Georgia, and residents of DeKalb County should expect our tax money and agreements to be equitable and fair.  We demand that we be treated equally. There is no separation of the MARTA funds as the monies are co-mingled with other projects.   We are not even sure what the total amount of MARTA debt is.
The More MARTA project , which was just approved by the MARTA board , included the Atlanta Beltline and Streetcar, which were neither part of the MARTA projects and were not mentioned in the City of Atlanta half penny referendum.   Nevertheless, the Beltline and Streetcar projects were added to the MARTA project list ahead of projects that have been on the list for decades including those slated for DeKalb.
MARTA needs more accountability and transparency of the revenue collected and spent on each and every project.  The amount of revenue collected and debt of MARTA should be known to all the stakeholders.  The quality of buses, number of bus shelters, bus stop signs restrooms, tunnel ventilation and other services are not equal.
The contract that DeKalb , Fulton and the City of Atlanta signed with MARTA in September 1971 was for 50 years.  The RTCAA contract will expire in 2021.  The DeKalb agreement included a 1 penny sales tax for 11 years. And it was supposed to be reduced to a half penny the remainder of the 39 years.  The penny sales tax has been extended more than five times since 1971 by the General Assembly without voter referendum.  In 2007, the sales tax was extended to 2047, and also a bill was passed  by the General Assembly in 2015 HB213.    Again, the sales tax was extended in 2015 HB213, even though the MARTA agreement ends in 2021.  The original 1971 MARTA contract required a voter referendum. However, without any referendum by the voters of DeKalb, the General Assembly extended the 1 penny. Our state delegation should be prepared to roll back that extension and to seek voter approval for any sales tax extension.
There are 38 rapid rail train stations in the MARTA system, and only 10 of them are in DeKalb.  Two of those 10 are in the city of Atlanta.  The last one in South DeKalb was completed in 1993 which is Indian Creek station.  Only 25 percent of stations are in DeKalb, while we make up at least 40% of the population who has paid into the system for almost 50 years.
Moving forward, we need DeKalb BOC members to support a 100M capital budget amendment by M ARTA prior to December 15 for restricted funding of Right of Way and other construction cost s for I-20 East instead of the purchase of new heavy rail cars which is outlined in the FY2019 Proposed Capital Budget.
The citizens of DeKalb should be prepared to demand that our  Board of Commissioners be prepared to fight for a comparable new contract with M ARTA similar to Gwinnett's 30-70% control of its 1 penny Marta sales tax.  It is not fair for DeKalb citizens who help ed build MARTA 's foundation be required to pay more than counties like Clayton and Gwinnett.  Fulton County and Atlanta have most of the assets, and DeKalb is getting screwed.  We have been part of the MARTA system from day one and yet we are being treated like dropouts and second class citizens.
We need County Commissioners and DeKalb M ARTA board members who will support South and North DeKalb rail expansion first over any other projects with the current 1 penny sales tax per the 1971 RTCAA. We should have public hearings in DeKalb County prior to Dec 31 in regards to the impact of new LRT and Street Car construction debt payments from the current 1 penny sales tax that already has $ 3 billion in principal and interest payments.
In order to have trains going down I-20, we should support restricted Right of Way acquisition funding for I-20 West rail expansion.  We want published time lines and public hearings in Atlanta and DeKalb prior to Dec 15 to reopen restrooms and to have discussion on limited 24-7 hr rail service to the airport and other job centers.
Both M ARTA and DeKalb master plans should provide written verification of the costs and options of heavy rail and light rail.  We do not need any more studies.  There should be public hearings that provide real data.  It is MARTA 's job to provide the data to support the route and the type of rail for us to make a sound decision.
Ed Williams heads Concerned Citizens For Effective Government.