Testingfg of Ads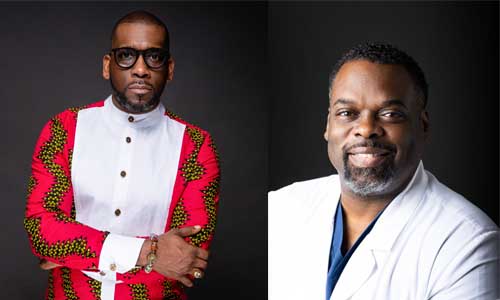 Pastor Jamal Harrison Bryant and Dr. Damon Kimes
Food Pantry, voter registration drive set
STONECREST–Pastor Jamal Harrison Bryant and Georgia Know Your Status (GKYS) are teaming up for a free COVID-19 testing opportunity on Saturday, Oct. 3, at New Birth Missionary Baptist Church, 6400 Woodrow Road in Stonecrest.  The community is encouraged to participate in the free, drive-through COVID-19 testing opportunity beginning at 10 a.m.
Dr. Damon Kimes, who is a recurring cast member on Bravo's Married to Medicine series, recently launched the GKYS mobile COVID-19 testing site with the intent to bring safe, effective testing to people in underserved communities.
"We are excited to again partner with Dr. Kimes as we work to curb COVID-19 in our community through testing, education and access," said Pastor Bryant. "On the same day, New Birth is hosting our weekly food pantry in conjunction with DeKalb County Government while also making a huge push to register people to vote and be counted in the 2020 Census."
Testing is scheduled to conclude at 2 p.m. No appointments are necessary.
"We are making progress, but our work is not done," said Kimes, a triple board-certified physician. "We are making a great impact and we want to activate all our resources to prevent the spread of COVID-19. Testing will lead to quick identification of cases, quick treatment, and immediate isolation to prevent further spread of this virus."