Testingfg of Ads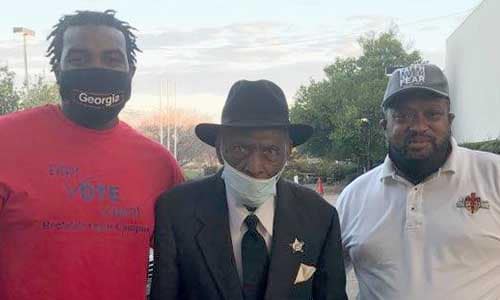 Willie C. Banks (center) and Pastor J. Phillip Baker (far right)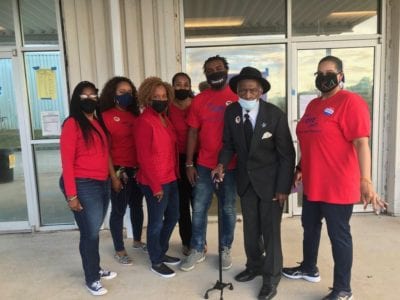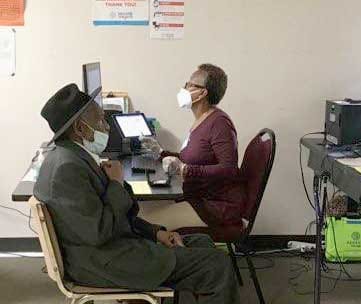 Photos provided by Cynthia Willingham
Willie C. Banks, Rockdale County's oldest voter at 99 years old, cast his ballot today(Oct. 24). This weekend marks Rockdale's first Saturday early voting day for the Nov. 3 general election.
Banks was escorted to the polls by Pastor J. Phillip Baker of Shady Grove Baptist Church in Conyers.
"I had the honor of bringing him to the polls and voting along side of him," Pastor Baker said. "Mr. Banks registered to vote in 1962. He is a World War II veteran and longtime friend of our family."      
Rockdale Elections Director Cynthia Willingham said another historic moment happened today: Enrique Genson, a teacher with Rockdale Public Schools, voted for the first time in his life on today(Oct. 24). 
"When I announced that Mr. Banks and Mr. Genson were voting, some people were in tears. It goes to show you how important this election is," said Willingham, acknowledging the hotly-contested race for the nation's top elected seat between Republican President Donald Trump and Democratic Vice President Joe Biden is drawing record numbers of people locally and around the country to the polls.
Two locations will be open for early voting on Sunday(Oct. 25), noon to 6 p.m., in Rockdale County:
Rockdale Government Annex
1400 Parker Road, Conyers
Springfield Baptist Church Activity Center
1877 Iris Drive, Conyers