Testingfg of Ads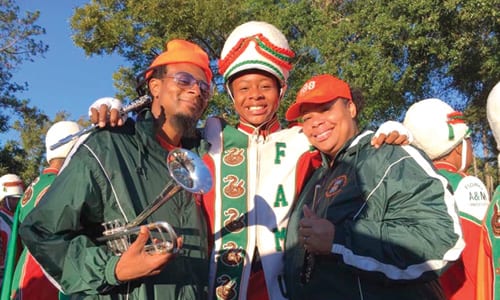 By Valerie J. Morgan
Cori Renee Bostic, a Southwest DeKalb High School alumna (2016), has made history as the first female drum major in the 72-year legacy of Florida A&M University. 
Bostic, a junior who is a broadcast journalism and honors major, was named among the three newest drum majors of the university's world-renowned "Marching 100 Band." FAMU Director of Bands Shelby Chipman, Ph.D., announced the other two new drum majors: Marquel Bowen, a public relations scholar, and Joshua Honore, a music education scholar, both of whom are from Miami Gardens, Florida.  
"Our band leaders represent the diversity, dedication and academic prowess of our band scholars," Chipman told FAMU's campus newspaper. "We are excited about the opportunity to electrify Rattler fans/supporters near and far, as we also prepare to march in the January 1, 2019 Tournament of Roses Parade in Pasadena, California."
Lenise Bostic said she and her husband, Cory Bostic, were ecstatic to learn of their daughter's leadership appointment in FAMU's Marching 100.  
"We have received so many calls," said Lenise Bostic. Everyone is so invigorated by her appointment. It is such an inspiring story.  To have something like this come to life is the best thing that could happen for any parent on earth." 
Lenise Bostic said her daughter tried out for drum major last year, but wasn't selected. 
"She learned from that experience and went to work. They told her that she needed more upper-body strength and she got a personal trainer and worked out," Lenise Bostic said. 
Cori Bostic, who plays piccolo and oboe, hails from a family of eight kids, all of whom are musicians. Bostic's mother, a principal with the Atlanta Public School System, plays piccolo and her father, who is band director at Lithonia Middle School, plays trumpet. Both parents played in FAMU's Marching 100 Band.  
Lenise Bostic credits James Sada, band director at Southwest DeKalb High School, and Steven Cooper, who was assistant band director when her daughter was there, for molding Cori and preparing her for FAMU. Both, Sada and Copper, played in FAMU's Marching 100 Band, Lenise Bostic said. 
"Cori won band and academic scholarships to FAMU. She played piccolo in the marching band and oboe in the wind symphonic band. We have to give a lot of credit to her band directors at Southwest DeKalb High School for encouraging her," Lenise Bostic said.   
In addition to her musical pursuits, Cori Bostic played basketball at Southwest DeKalb, where served as team captain and won two championship games, her mother said. Cori played basketball during her freshman year at FAMU as well. 
"She just crossed Delta Sigma Theta. She is also a member of Tau Beta Sigma, national honorary band sorority," Lenise Bostic said.