Testingfg of Ads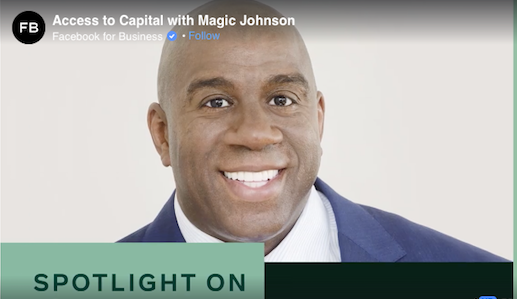 NBA legend and entrepreneur Magic Johnson is offering advice to small business owners who have been greatly impacted by the COVID-19 pandemic. Johnson is part of a new effort launching this week as Facebook announces Summer of Support, a six-week program providing free content to help businesses get back to business.
The program will provide millions of individuals and small businesses with the digital skills and resources needed to survive and thrive in this economic crisis.
"Summer of Support" will tackle a different theme each week, offering participants on-demand training courses and thought leadership lessons from business leaders, small business owners and featured guests.
This week's theme is The Changing World': It's not just about the health crisis; innovation itself has put us in a permanent state of flux. For your business to succeed, it's important to understand how to respond to this new reality.
"The Changing World" online sessions include:
In tandem with Summer of Support, Facebook is premiering Tan France's "Boost My Business" show which features Tan – a former small business owner – helping others achieve success using Facebook and Instagram to grow their business online, even if their doors are currently closed. The first episode features a small business from Dalton, Ga.
Summer of Support Schedule:
The Changing World  (June 24 – 28):Understanding the current state of society, insights and inspiration on where small business plays a leadership role.
Resilience (June 29 – July 5):Sometimes opportunity can look like a setback. The businesses that succeed are the ones that can reframe a setback as a new way forward. Find out how to stay resilient in moments of change and make your downturns work for you.
Reinvention (July 6 – 12):That one transformative opportunity might just be out of reach — and you just might have to try a little reinvention to fully grasp it. These courses will show you how to remake your business to be more open to opportunity.
Re-Emergence (July 13 – 19):Once a crisis ends, how do you enter into the new landscape? Successful re-emergence into the market means understanding which parts of your business to keep and what needs to evolve.
Customers & Commerce (July 20 – 26):If you're an asset to your customers in times of uncertainty, you stand to gain when the economy picks up again. Learn how to make your business essential, through customer-focused processes and smarter commerce.
Community (July 27 – 31):Essential businesses help communities stay strong and flourish, whatever their size or composition. Learn how to keep your business a vibrant and important member of your community – however you define "community."