Testingfg of Ads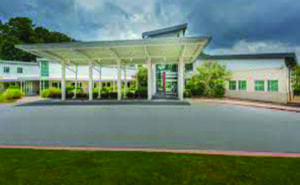 A popular DeKalb senior center is celebrating a decade of helping seniors remain active.
The Lou Walker Senior Center, located at 2538 Panola Road, Lithonia, announces "Life Begins at Lou Walker," a weeklong tenth anniversary celebration, June 3-11.
"The Lou Walker Senior Center has become a premiere example of how government should take care of those who have worked hard, supported families and served in the community for so many years," said DeKalb Interim CEO Lee May. "This center is a place where seniors can remain physically active, mentally engaged and socially connected as they reap the benefits of their labors."
Opening officially in January 2006, the multipurpose facility serves active senior adults, ages 55 and older. The 40,000-square-foot facility, which offers world-class amenities and programming, has had more than 1.3 million visits in the past decade. The center serves approximately 500-600 members daily.
The LWSC's anniversary week activities include:
• Friends & Family Day, June 3, 8 a.m. to 3 p.m. This event will feature the center's Anniversary Parade, a $3-a-plate fish and grits breakfast, and the unveiling of portraits of the 10-year Trailblazers.
"The Trailblazers are 33 members who have been instrumental in starting programs, clubs and the choir, and volunteering for the past 10 years," said LWSC Director Bettye Davis. "They have been the catalysts that have kept the legacy of Lou Walker alive."
The Trailblazers' portraits will be displayed on a special "Wall of Fame" at LWSC for the rest of the year.
• Game Day, Monday, June 6, 10 a.m. to 4 p.m. Participants can enjoy games all day long. Among the games available will be Wii, Pinochle, Bid Whist, Scrabble, dominos, chess, billiards and bridge.
• Fab Fun Fitness Day, Tuesday, June 7, 10 a.m. to 4 p.m. Join LWSC seniors for a day of fitness and fun featuring Tai Chi, Zumba, chair aerobics, Stretchercising, Dynamics Abs, Pilates and more. Participants must sign a waiver to participate.
• Dance with Us, Wednesday, June 8, 10 a.m. to 3 p.m. Learn hot new dance moves with Line Dancers from LWSC's more than 20 dance groups which will lead dances at the start of each hour.
• Reflections of the Soul—LWSC Inspiring Art, Thursday, June 9, 10 a.m. to 2 p.m.  LWSC seniors will showcase some of their talents. Books by several LWSC seniors will be on display, as well as exhibits and demonstrations by various center clubs and classes. Additionally from 5 to 8 p.m., there will be a movie shown with dinner prepared by Piccaddilly's.
• Red Carpet Reception and Broadway-style production, Saturday, June 11,  3 to 6 p.m. The week of celebration will culminate in a red carpet reception, silent auction benefiting the center, and a Broadway-style production celebrating the life, work and legacy of founder, Lou Walker. The LWSC Drama Club production, They Call Him Lou, begins at 4:30 p.m. Tickets for this event are $10 each.
All anniversary events are open to the public.
"This is an opportunity to invite our family and friends to come and see what we're doing at the LWSC," Davis said.
For more information or to purchase tickets to the Broadway-style production, contact Bettye Davis, 770-322-2900.