Testingfg of Ads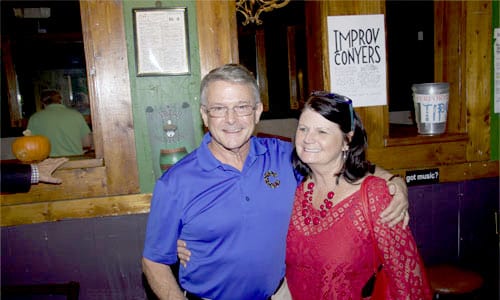 Voters in the city of Conyers overwhelmingly elected long-time City Council member Vince Evans as its first new mayor in 20 years.
Evans, who served 18 years on the City Council (the last 8 as mayor pro tem) will succeed Randy Mills, who served as mayor of Conyers for two decades and did not seek re-election, deciding instead to spend more time with his family.
At his victory celebration, which was held at the Celtic Tavern, Evans thanked those who supported him, including 80 people who donated to his campaign. He also thanked his wife, Cyndi, who joined him on the campaign trail as he walked door to door stomping for votes.
"This was a difficult thing to do…knocking on doors, making phone calls, it was tough," said Evans, who promised to make public safety a top priority, along with advocating for improvements to parks, diversity on city boards, and bringing more businesses into downtown Conyers.
Evans received 549 votes (52 percent) in the three-way race that included two opponents who have never held public office.
Ronnie Godwin came in second with 301 votes (28.6 percent), while Olivia Ware received 198 votes (18.8 percent). Godwin campaigned on a promise to address "the culture—from the chief down to the newest employee," while Ware campaigned as the only black Democrat in the non-partisan race seeking to improve economic development and the city overall.
As Election Day neared, the race intensified. Allegations that Godwin promoted a free gas offer to voters on his Facebook page prompted an investigation by the Secretary of State's Office. Godwin allegedly promoted that a Shell Station in Conyers was giving the first 100 early voters $5 of free gas if they showed their "I Voted" stickers and identification proving they lived in Conyers. Elections supervisor Cynthia Welch said she visited the station to let the owners know that giving freebies and requiring voters to show their "I Voted" sicker and personal identification is against the law. Freebies can be offered, she said, as long as they are offered to everyone. Also, the Conyers Housing Authority informed the public in a Facebook post that there was no truth to an allegation that residents would be evicted, if they didn't vote for Godwin.
Not even the rumors, however, prompted more people to go to the polls. Welch had predicted a light turnout for the election—about 12 percent (roughly 1,000 of the city's 8,000 registered voters) and her projections were correct. According to preliminary results, 1,054 of the city's 7,681 voters cast ballots. Welch said the certified results would be released on the Secretary of State's website on Nov. 13.
The Conyers elections served as a pilot for the state, which tested new voting machines that allow voters to print their selections, review the ballot and then insert into a tabulator to be counted.
"We didn't have any technical issues or require help from the vendor, Elections Systems and Software," said Welch. "We had poll workers on hand to assist voters but no one required it. The system is very user friendly."
Welch said she plans to provide a full assessment to the Secretary of State's Office, which will decide what steps to take next.
"We're hoping state legislators will provide the funding for the new system and replace antiquated voting machines around the state," Welch said.
Below are the unofficial results for the Conyers City Council races:
City Council, District 1, Ward 1
Cleveland Stroud (Incumbent) ran unopposed.
180 (96.86 percent)
City Council District 2, Post 1, Ward 2
Blair Barksdale (unopposed)
370 (96.86 percent)
City Council, District 2, Post 2, Ward 2
Jacob L. Bailey 257 (65.73 percent)
Tom Clark Harrison 130 (33.25 percent)