Testingfg of Ads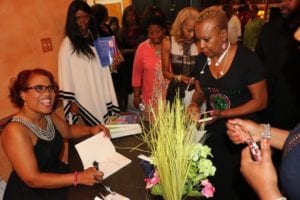 Blogger Leslie E. Royal has unveiled her new book, "Leslie's Lane, The Book," a one-stop resource guide to free stuff, discounts, travel tips, scholarships, helpful internet sites and more. The book is a reflection of Royal's money-saving lifestyle and her blog, "Leslie's Lane."
Royal held the unveiling, dedication and book signing for a special group of guests who attended a celebration on Nov. 6 at Don Janelle Hair Salon in Stone Mountain. Each guest received a copy of the book and swag bags filled with goodies.
On Common Ground News Publishers Glenn and Valerie Morgan had the pleasure of attending the event.
"We were absolutely thrilled to help Leslie celebrate her book signing," said Valerie J. Morgan. "Leslie is an inspiration and a blessing to so many people. The tips she shares in the book are so helpful and practical. It is an invaluable resource for those looking for ways to improve their lifestyle while saving money."
Want to know about #jobs #freestuff #discounts #scholarships & more! Order Leslie's Lane The Book! – Leslie E. Royal – http://ow.ly/ZIf6305WYWH.