Testingfg of Ads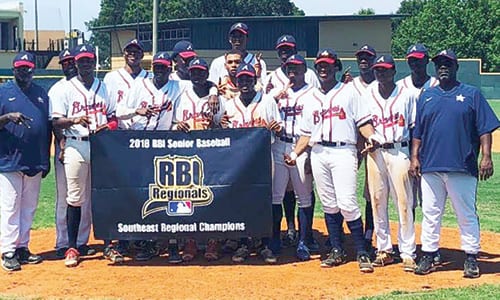 John W. Hollins, Jr. is proud of this year's ATL Metro RBI senior baseball team. The team was named Southeast Regional champions in the Reviving Baseball In the Innercities MLB program. 
Fifteen players and four coaches flew to Minnesota where the team competed on Aug. 8 in the RBI World Series, which was held at the Neiman Sports Complex in St. Paul, Minnesota.
Although the Southest Regional champs lost to the West Regional champions (Arizona) 7 to 5 in the first round, the Georgia team was honored to have the opportunity. 
 "RBI is so important to our community. Thanks to the RBI program and the Atlanta Braves for its support, our African-American kids had the chance to compete at the highest level," said Hollins, who is director of ATL Metro RBI. 
Hollins' league provides training to kids ages 12 to 18 from DeKalb, Fulton, Gwinnett, Cobb and Henry counties whose families cannot afford the costs of participating on a travel team, which Hollis said can run $2,500 to $5,000.
"We only charge $100 for kids to participate and we make sure that our players receive the same level of training from pros that players on elite teams get," said Hollins. "Over the last 10 years, we have helped numerous students improve their SAT scores and enter college."
Hollins said his program helped produce a total of six players, three of whom attended DeKalb County's Redan High School, who were drafted by professional baseball teams this year.
Hollins, who has been an RBI affiliate for 10 years, will be honored as a Community Hero for his work with RBI at the Sept. 17 Atlanta Braves vs. the St. Louis Cardinal game at Suntrust Park.  A portion of the ticket sales will benefit ATL Metro RBI. 
Tickets are available at: https://groupmatics.events/event/atlantametro. 
For more information, contact Celeste Mercer at Celeste.Mercer@braves.com