Testingfg of Ads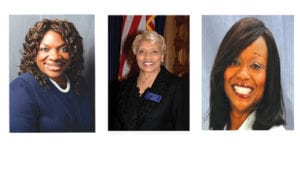 Breast cancer patients, medical professionals, business leaders and lawmakers convened on Oct. 11 at the Loudermilk Center in Downtown Atlanta to discuss shaping legislation and resources to better support patients, especially African Americans, facing long-term cancer care.
A recent report by the Avon Foundation for Women found that the disparity between breast cancer mortality rates for black and white women in Atlanta is greater than any other major U.S. city.
"It's a travesty that in the Atlanta area the mortality rate for African American women is 50 percent higher than their white counterparts and even more so the disparity for breast cancer death rates between black and white women is higher in Atlanta than any other city in the nation," said Kimberly Williams, PhD, who serves as Executive Director of the Georgia State Medical Association and served as a panelist at the LIVING with Breast Cancer symposium.
"It's very sad and inappropriate that we have as much education and intelligent and well-educated individuals, hospital systems, Emory University, yet we have such a large proportion of African American women dying of cancer.
The event, sponsored by the Georgia Society of Clinical Oncology and the Georgia Center for Oncology Research & Education (Georgia CORE), highlighted the challenges patients and providers face in the cancer care industry, particulary with those battling "stage four" breast cancer or what's known as metastatic breast cancer — meaning that cancer cells have metastasized or spread to other parts of the body.
One-third of women who have had a breast cancer diagnosis will at some point develop metastatic breast cancer, according to event organizers.
Although treatments now offer better symptom management and enhanced quality of life, women with metastatic breast cancer are faced with battling the disease for the rest of their lives while still being productive family members and employees.
The goal of the event was to recognize Georgia's distinct population of metastatic breast cancer survivors and raise awareness of how employers, lawmakers, physicians and communities can play a role in caring for this growing and vital community.
Williams said that she believes better access to care would help reduce the mortality rate. Transportation, closed hospitals for budget cuts, income, childcare for follow-up appointments treatment are among the reasons African Americans can't get the help they need.
"We (African Americans) don't have the same level of access compared to our counterparts," said Williams, who said more efforts must be made to reach lawmakers to change public policies.
State Rep. Dee Dawkins-Haigler, a breast cancer survivor and champion for others who have cancer, said she was fortunate because she was diagnosed early. She encouraged navigators and those on the front lines of the health arena to continue pushing to get the word out to expand Medicaid for Georgians and demanding resources. She also stressed that more education is needed in the community about cancer treatment. Many people believe the myth that cancer surgery will kill them
"A lot of people won't get the help they need because they believe if you cut it and air gets in it, you're going to die. But the thing of it is you're going to die for sure if you don't get the help," Dawkins-Haigler said.
State Sen. Gloria Butler, who serves on the Health Committee on the Senate and attended the symposium, said women need to be more aware of public policies that affect them.
"We have to keep our eyes on women's health issues because there are so many times when our men don't support. If we don't have women fighting for women then we won't get what we need. We'll always get left out," Butler said.
Butler concurred that Georgia needs to expand Medicaid.
"We're missing so many dollars that are going to other states that had the good sense to expand," Butler said.
Jacque Thornton, senior vice president for LeadingAge Georgia, an advocacy group that supports positive aging, said it's not just younger women who are at risk. Senior citizens who have metastasized breast cancer also face dire challenges in finding a safety net.
"This is a huge issue because more people are working longer and while they live in senior living they are need of being able to protect their employment opportunity," said Thornton. "If they are having chronic disease such as cancer, then there needs to be continuity of care for metastatic breast cancer patients in which they receive the same high level quality of support systems."
For more information, visit /www.georgiacore.org or www.gasco.us.