Testingfg of Ads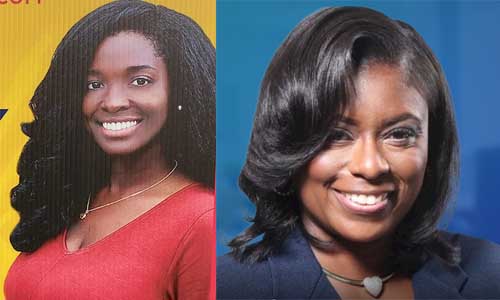 L-R: Cindy Thomas and Shameka Reynolds
With the Nov. 4 elections just days away, the mayoral race is heating up as the Georgia Secretary of State's office launches an investigation into the residency of Cindy Thomas who is challenging Shameka Reynolds, who has served eight years on the City Council. Deborah Jackson is not running for re-election as mayor of the city.
Lithonia council members Ric Dodd and Amelia Inman filed a challenge to Thomas' residency with the DeKalb Board of Registration and Elections at the beginning of the election cycle. Thomas appeared before the board on Sept. 12 to contest the residency challenge, providing documentation of her residency. Several supporters also spoke on her behalf. The county elections board dismissed the claim, clearing Thomas to run.
Dodd said that he filed complaints twice with the Secretary of State's Office alleging Thomas falsified documents to run for office. Dodd said he received an email on Oct. 15 from Chris Coulter, who stated he had been assigned to investigate the complaint on behalf of the Georgia Secretary of State's Office.
Dodd said Thomas lived at her boyfriend's house in the city for a portion of the last year, and did not live at the address listed when she qualified to run for office.
Dodd, a longtime resident, said in the past, he has filed complaints against other candidates concerning their addresses: Vivian Dixon and Joyce McKibben, who ran for offices in the city of Lithonia.
Lithonia, which is less than one square mile, has a population of just 2,100 people.
"The city of Lithonia is small enough to know where everyone lives. One of Cindy Thomas' campaign supporters said Cindy used to live with her mother off of Marbut Road. Well, that is not in the City of Lithonia. Marbut Road is unincorporated Lithonia, which is now the City of Stonecrest," said Dodd.
Cindy Thomas' campaign manager, John Jackson, said the Secretary of State's called the complaint a "smear campaign" against Thomas. He said Dodd and Inman asked the Secretary of State to investigate because they were not satisfied with the decision rendered by the DeKalb Board of Elections in September.
"It's just a manufactured crisis. The DeKalb Board of Elections said that she (Thomas) met the residency requirements," said Jackson.
Jackson said that Thomas has lived on Swift Street for at least 1 ½ years. He said Thomas is leasing a house. He added that Thomas grew up in Lithonia but moved away after graduating from GeorgiaTech and starting a career in marketing.
"She returned because she wanted to lift up the people who have less in the city," said Jackson.
Jackson said Thomas would not speak with On Common Ground News because she wanted him to speak on her behalf. He said she was "too focused on her campaign." Jackson named Mayor Deborah Jackson as one of Thomas' supporters.
Mayor Jackson said in a text to On Common Ground News: "I appreciate the level of enthusiasm and commitment she has shown to make a positive difference in the community. She has broad experience through her work in other countries that I believe would be beneficial to Lithonia."
State Rep. Doreen Carter, who has lived in Lithonia for 20 years and served four years on the City Council before her election to the Georgia House of Representatives,  said she is throwing her support behind Reynolds.
"This is her home. She has lived in Lithonia for years. She brings experience to the city of Lithonia, having served 8 years on the City Council. She understands business and the community as a whole.  I believe she is a leader who we need in this season of politics," Carter said.