Testingfg of Ads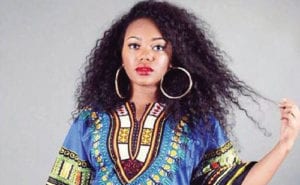 By Mackenzie N. Morgan
Kameren Saulsberry, 18, will bring in the Fourth of July holiday in grand style singing the National Anthem in front of more than 60,000 people at the 47th Annual Peachtree Road Race in Atlanta.
The Lithonia resident was recently announced as the winner of the 11Alive "Oh Say Can You Sing" competition, in which the winner gets a once-in-a-lifetime chance to sing the National Anthem at the Peachtree Road Race. The televised race is the largest 10K in the world, according to the Atlanta Track Club.
"I've never performed for a crowd this large. I am so excited about singing in front of all those people," said Saulsberry, who is an intern at Atlanta's Alliance Theater and spends her free time uploading her cover videos to YouTube.
Saulsberry, who plays guitar and writes her own music, said she started singing around the age of 5 and grew up singing in school events and talent shows.
"I sing the National Anthem all the time for school events so I thought since I know the song, I might as well try. I didn't think I would actually win."
Most recently, Saulsberry, who graduated this year from Chamblee High School in DeKalb County, played the lead role in her school's production of the "Wizard of Oz" and placed second at the GRAMMY Foundation's annual teen music contest back in December. Saulsberry plans to major in music education at Georgia State University this Fall. She lives with her parents, Ken and Shirley Saulsberry, and has an older sister and younger brother.
Saulsberry said she heard about the contest on the radio and decided to enter the competition.
"Our entire family is extremely excited about Kameren having this opportunity to sing at the Peachtree Road Race. We are hopeful that this will lead to bigger and better things for her and her singing career."
Kameren Saulsberry said the contest came really close between her and another student, but she was able to win with the help of social media.
"I was so happy. I've always wanted to be a singer. I'll probably get nervous the day of the event, but then Sasha Fierce will come out," Saulsberry joked in a reference to pop music superstar Beyonce's alter ego.
The Peachtree Road Race and Saulsberry's performance will be televised on 11Alive at 7 a.m. on July 4.