Testingfg of Ads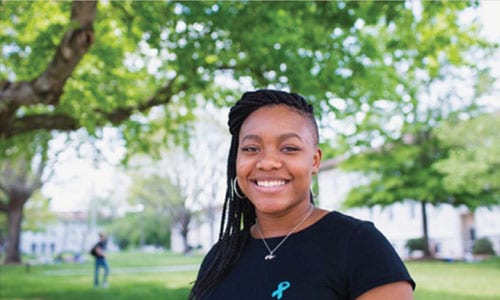 Emory Photo
Lithonia resident Chelsea Jackson, a political science and African American Studies double major at Emory University, has been named a Rhodes Scholar, Emory University officials announced in a news release. Jackson is Emory's 20th student selected for the prestigious scholarship, which provides for all-expenses-paid-study at the University of Oxford in England for two or three years. Jackson is one of 32 American college students selected for 2018 and she also is the fourth woman and first African American student from Emory College to receive the scholarship.
"I am immediately blessed to be selected," said Jackson. "Just the resources available and the opportunity to live outside the U.S. and interact and learn from scholars throughout the world is immense."
Commissioner Mereda Davis Johnson congratulated Jackson in her District 5 online newsletter.
"This summer, I had the opportunity to meet Chelsea as we honored her with the Shining Star Award at the 2017 Old School/New School Community Concert. I was able to learn more about her great accomplishments and continued contributions in society," Johnson said.
Jackson has focused her undergraduate research and her community leadership on efforts to create a more equitable campus and Atlanta community.
"Chelsea Jackson is a passionate and committed student who uses her intellectual talents and commitment to social justice to better our world," said Emory University President Claire E. Sterk. "She will be a wonderful ambassador for the United States and Emory as she continues her work at Oxford University."
Jackson, who co-founded the Atlanta Black Students United (ATLBSU), which includes representatives from every school in metro Atlanta, has been active with the Emory branch of the NAACP. .
Last year, she shifted from working as the group's media representative to putting additional energy into her academic commitments, according to Emory officials.
She presented a conference paper last year with her adviser, Andra Gillespie, associate professor of political science and director of Emory's James Weldon Johnson Institute for the Study of Race and Difference that looked at how different stories impacted public opinion on police shootings. She was also named Emory's first Truman Scholar since 2011.
"Chelsea truly embodies the ideals of liberal arts and sciences education. Her pursuit of knowledge and inquiry informs her activism and her dedication to making our society a more just one for all," says Michael A. Elliott, dean of Emory College of Arts and Sciences and Charles Howard Candler Professor of English. "We are extremely proud of her, and I am looking forward to watching her career unfold as she leaves our campus to have an impact on the world beyond it."
This year, Jackson is focused on her master's thesis as Emory's sole BA/MA candidate in political science. Her topic: examining whether the race of the prosecutor can affect racial discrepancies in the criminal justice system when looking at matters of discretion, such as whether to charge the accused with a felony or misdemeanor.
"Chelsea is just brilliant," Gillespie says. "She came to Emory with an abundance of brain power and the willingness to do the work to develop her skills. Her keen intellect and commitment to public service and social justice make her the student you dream of having the honor to teach."
Jackson plans to earn a master's degree in criminology at Oxford.
"I want to learn how race and politics play out in other countries' criminal justice systems to see how that shapes their world view, and to consider new ideas and ways to solve problems that I have not thought of yet," Jackson said.
After completing her Oxford degree, she plans to return to the U.S. to attend law school to become a civil rights attorney.
"The more empirical ideas I can learn, the more I can see how things are done elsewhere, it means I can be a better activist and propose better solutions," Jackson said.