Testingfg of Ads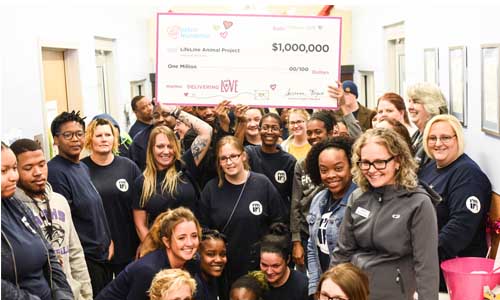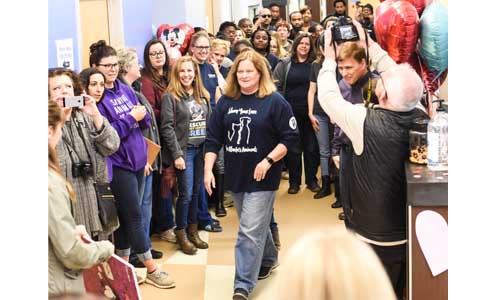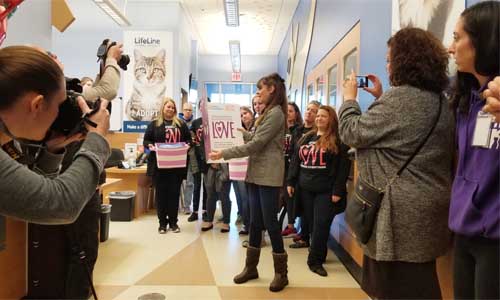 LifeLine Animal Project staff had no idea that they'd be receiving a lot more than lunch when Petco Foundation representatives showed up to honor them. However, when longtime LifeLine supporter and celebrity trainer Victoria Stilwell (star of CBS "Greatest American Dog" and Animal Planet's "It's me or the Dog") dropped in to make an announcement, staff began wondering what was really going on.
Stilwell presented LifeLine Animal Project CEO Rebecca Guinn and LifeLine Board Chair David Midler with a giant Valentine Card with messages of support to all of the staff members and volunteers.
"This is just to say thank you for your work," Stilwell said. And then she surprised everyone when she handed Guinn and Midler a giant envelope, revealing a check made out to LifeLine Animal Project for $1 million.
"We're really proud to be saving lives," said LifeLine Animal Project CEO Rebecca Guinn, who unwrapped the enormous Valentine along with board chair David Midler. "We've had the honor of being able to transform Atlanta into a lifesaving community. We could not do that without the support of the Petco Foundation."
LifeLine Animal Project has been managing DeKalb County Animal Services and Fulton County Animal Services since 2013 where they've increased adoptions by 300 percent. In 2018 alone, the organization saved 14,057 lives and cared for over 39,000 animals in their clinics, shelter and community.  They also operate two low-cost spay/neuter clinics that have provided Atlanta's animals with over 126,000 free or low-cost spay/neuters and provide free vaccines and veterinary services to thousands of pets annually.  To learn more about LifeLine Animal Project, view adoptable animals or sign up to volunteer, please visit LifeLineAnimal.org.