Testingfg of Ads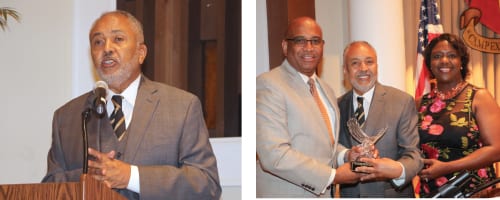 By Valerie J. Morgan 
Lecester L. "Bill" Allen, founder and CEO of the Allen Entrepreneurial Institute,  discussed the importance of promoting entrepreneurship and ownership, especially among young African Americans.  He told state lawmakers attending the Leroy Johnson Civil Rights Dinner at the Georgia Legislative Black Caucus(GLBC) that they must do more to provide financial literacy to the black community in order for it to prosper.   
"I find it so unfortunate that too many of us in our community are financially illiterate. We don't understand money. It is time that we understand the finances and how it works in this country because the basis of this country is built on small business ownership," said Allen.
 "As legislators, I would like to encourage you to move from just the phrase of 'jobs, jobs, jobs' to 'ownership, ownership, ownership.' We often make references to the 'Black Wall Street,' but we don't have the ownership," said Allen, adding that he would like to see more ownership of institutions and businesses like the Allen Entrepreneurial Institute.
Allen said he learned about the importance of money and ownership at an early age from his mother who continually reminded him that his grandfather owned 500 acres of land. 
"That had an impact on my thinking. The seed was planted at an early age," said Allen, who said his father was a slave.
"I know it is hard to believe that I am only one generation from slavery. I wasn't born with a silver spoon in my mouth," said Allen, who quickly learned strategies in figuring things out.
The R.A. Pickens Plantation near Dumas, Arkansas, where Allen grew up, also left an indelible impression on him as a youngster. The plantation was massive compared to the three-mile-square town of Dumas, located 90 miles southeast of little Rock and 45 miles southeast of Pine Bluff.
Eyeing the Pickens' mansion as a child, Allen said he used to say that someday, he was going to own a house like that. 
"The vision of a black kid owning something that big was ridiculous, ludicrous," said Allen, who left Dumas to go to college in Detroit. 
Allen said he bought his first property after graduating from college and becoming a teacher. He saved $3,000 of the $4,000 he needed for the property and borrowed from the teachers' credit union.           
"I learned what the concept of depreciation and capitol gains really means," said Allen, who was earning $5,600 a year when he got out of college. 
Allen said students who are selected for the Allen Entrepreneurial Institute learn about those principles and only the cream of the crop are accepted.
"It's not enough to dream, you must develop a strategy to reach your goals," said Allen, who says he has taken some of the basic concepts of the bible and applied them to his life. "There's not a better business book than the bible," he said.