Testingfg of Ads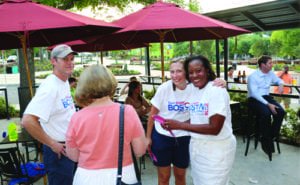 Sherry Boston will become DeKalb County's next District Attorney when she leaves her current job as Solicitor General and she takes the oath of office in January 2017. Boston, a Democrat, earned a whopping 62 percent of the vote, defeating her sole challenger, Democratic incumbent Robert James, during the May 24 primary elections. There were no Republicans in the race.
In her bid for the county's top prosecutor position, Boston leveraged several key endorsements, which included former DeKalb District Attorneys Bob Wilson and J. Tom Morgan, Congressman Hank Johnson and former U.S. Ambassador Andrew Young.
Boston championed restoring trust in the county, promising "a new day" in DeKalb. The message was one that resonated with voters. Boston carried nearly all 192 of the county's voting precincts.
Boston criticized James for overspending with his county purchasing card, violating campaign finance laws and refusing to cooperate with independent investigators who were hired to expose corruption and waste in DeKalb County government. James also faced criticism from the public for retrying former DeKalb CEO Burrell Ellis on corruption charges. After the first trial ended in a hung jury, James prosecuted Ellis again and Ellis was convicted of attempting to pressure a county vendor to contribute to give to his re-election campaign and perjury. Ellis was sentenced to 18 months in prison but was released March 1 after serving about 8 months