Testingfg of Ads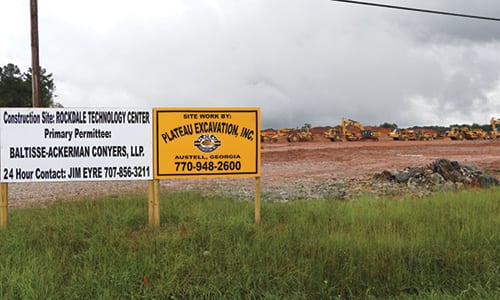 By Valerie J. Morgan
Construction crews are clearing a 92-acre tract for a 1 million-square-foot technology park that will be built along Dogwood Drive on the northern side of I-20 in Rockdale County.
Ackerman & Co. of Atlanta is developing the Rockdale Technology Park. The $50 million project will include four buildings that will be suitable for manufacturers, distribution/warehouse industries, administrative offices, recycling companies and others, said     Marty Jones, executive director of the Conyers Rockdale Economic Development Council.
"This is an absolutely good fit for Rockdale County," Jones said. "It is going to bring industries and jobs. Ackerman is a top-notch real estate development company. They have a pipeline of potential customers to fill these spaces. Their marketing ability is unsurpassed."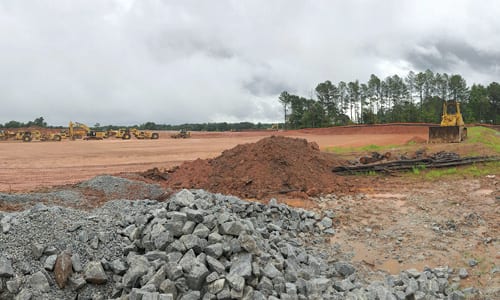 Jones said construction crews are expected to break ground by late September or early October on the first building. The 135,000-square-foot building is expected to be completed by March 2019, followed by a 185,000-square-foot building. A third building will encompass 135,000 square feet and the fourth building will encompass 550,000 square foot.
Jones said the Conyers Rockdale Economic Development Council has been working with Ackerman to bring the project to fruition.
"They(Ackerman) started talking with owners about buying the property about 15 months ago. We worked with Rockdale County government to make sure the permitting got done," said Jones.
Rockdale Board of Commissioners Chairman said at a recent BOC meeting that he was pleased Ackerman chose Rockdale, saying he is excited about the potential jobs that would come to the county as a result of the development.
Jones said he expects there will be some 500 jobs "across the whole spectrum" from the development.
"I think that most of the jobs will be filled by locals—people who live in Rockdale and 20 to 30 minutes away. I think that we have the talent to fill blue collar and white collar jobs that industries in the new park will need," Jones said.