Testingfg of Ads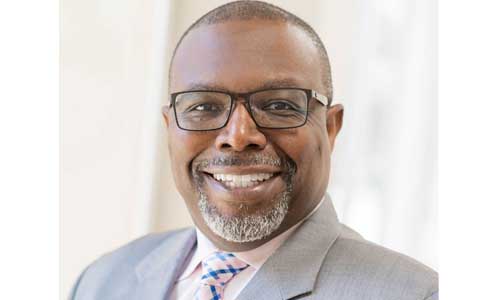 Stone Mountain resident Lance Hammonds has been appointed to DeKalb County's Charter Review Commission. The DeKalb County Senate Delegation nominated Hammonds for the appointment, which will run April 1 through Dec. 31, 2020.
Hammonds recently retried from a 30-year career in chemical sales management. He is now a realtor with Coldwell Banker Commercial Metro Brokers.
Hammonds serves as 1st Vice President of the DeKalb NAACP and has lead the branch's education advocacy initiatives, highlighted by its Community School Volunteer Program to increase volunteerism in the community and policy changes at the district level. The DeKalb Board of Education allocated funds in its 2019-2020 budget to implement a volunteer management system and two additional staff members.
Hammonds has served on many service boards and positions of leadership in DeKalb County. He is active in his neighborhood, where he serves as Safety Committee Chair and where he also serves as the Wynbrooke Precinct Captain for the DeKalb Democratic Party.
"I look forward to serving DeKalb County as a member of this commission," Hammonds said.
DeKalb County CEO Michael Thurmond announced the creation of a DeKalb Charter Review Commission in February to conduct a comprehensive review of the Organizational Act that established the county's current Chief Executive Officer and Board of Commissioners form of governance.
"The purpose of this commission is to study DeKalb's current form of government to ensure the county is responsive to the ever-changing needs and demands of county government," said CEO Thurmond. "It has been 40 years since the Organizational Act was initially passed in a public referendum. Jimmy Carter was president; annual interest rates were more than 18 percent; and Sony launched the Walkman. Now is the time to take stock of changes that are needed to create a 21st-century government that is transparent, efficient, and fiscally sound."
The Charter Review Commission will be comprised of 17 members as follows:
Three members appointed by the CEO with two members serving as co-chairs
One member appointed by the DeKalb County Board of Education
Seven members, each appointed by a member of the Board of Commissioners
Three members appointed by the DeKalb delegation to the Georgia House of Representatives
Three members appointed by the DeKalb delegation to the Georgia Senate
Two chairs of the DeKalb delegation to the General Assembly who will serve as ex officio members.