Testingfg of Ads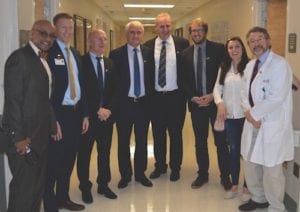 DeKalb Medical recently hosted a group of doctors from Kosovo who are looking to learn more about US hospitals and healthcare.  The group, which included members of the Kosovo Ministry of Health, traveled to the U.S. to learn best practices as they work to rebuild healthcare and modernize after the Kosovo War.
"So much of their country was destroyed by the war, "said Scott Keller, D.O. at Mountain East Family Medicine.. "They are working to rebuild their healthcare systems and came to see how ours work."
Dr. Keller and Dr. Stephen Thomas, VP of DeKalb Medical Physicians, met with the group on Oct 4 for a tour of the DeKalb Medical North Decatur facility.
"Our friends from the Ministry of Health are looking for a place for their doctors to get additional training so that they can achieve the same level of service and care we provide today. We are glad to be a part of their efforts," says Thomas.
Accompanied by interpreters Berat and Valdete Gegaj, co-founders of Kosovo Hope, Dr. Curr Gjocaj, Director of Hospital Clinical Services for Kosovo; Dr. Afrim Q. Avdaj, Endoscopic Surgeon and Director of Prizren Hospital; and Deputy Minister of Education Agim Berdyna  visited DeKalb Medical's Emergency Department, Intensive Care Unit (ICU), Maternity and Medical Surgery areas, among others. DMPG Medical Directors Solomon Tafari M.D. and Raoul Mayer M.D. Ph.D. assisted with the tour.
Keller says the visitors were particularly impressed with the patient tracking and monitoring systems as well as the mother/baby units.
"They don't currently operate like we do, so it was good for them to see how our physicians and nurses work," said Keller.
While the Kosovo doctors learned a great deal from the tour, they weren't the only ones to benefit from the visit, points out Thomas.
"When you have visitors from another country like this, it really improves your perspective. They commented many times about how many resources we have and how nice our facility is," Thomas says. "We get so wrapped up in improving and focusing on our shortcomings, that we sometimes forget just how lucky we are and how much we do have."
The mutually beneficial visit came about after Keller went to Kosovo with the group Grace Medical Missions.  While in Kosovo, the doctors' mission group was invited to meet with the President of the Assembly of the Republic of Kosovo, Kadri Veseli, to
discuss healthcare.  Berat and Valdete Gegaj, who co-founded the mission organization Kosovo Hope, helped organize the meeting.
Keller says President Veseli told them how much Kosovo appreciates the US's help throughout the years. He said the country is looking to its US friends to help them improve their healthcare system.
"Training is their biggest need," says Keller. "They have some equipment, like a Da Vinci robot for example, but no one is trained how to use it, so it just sits there."
The Grace Medical Mission group plans to go back to Kosovo in June and also to partner with Kosovo Hope, DeKalb Medical and others to send specialists over to Kosovo for training in Fall 2017.
"The people of Kosovo love the US and they are asking for our help. They don't want a hand out, the just want training to help rebuild." Keller said.
To learn more about Grace Medical Missions, contact Mike Sorrells at sorr1135@bellsouth.net. You can also learn about Kosovo Hope at its website Kosovohope.com