Testingfg of Ads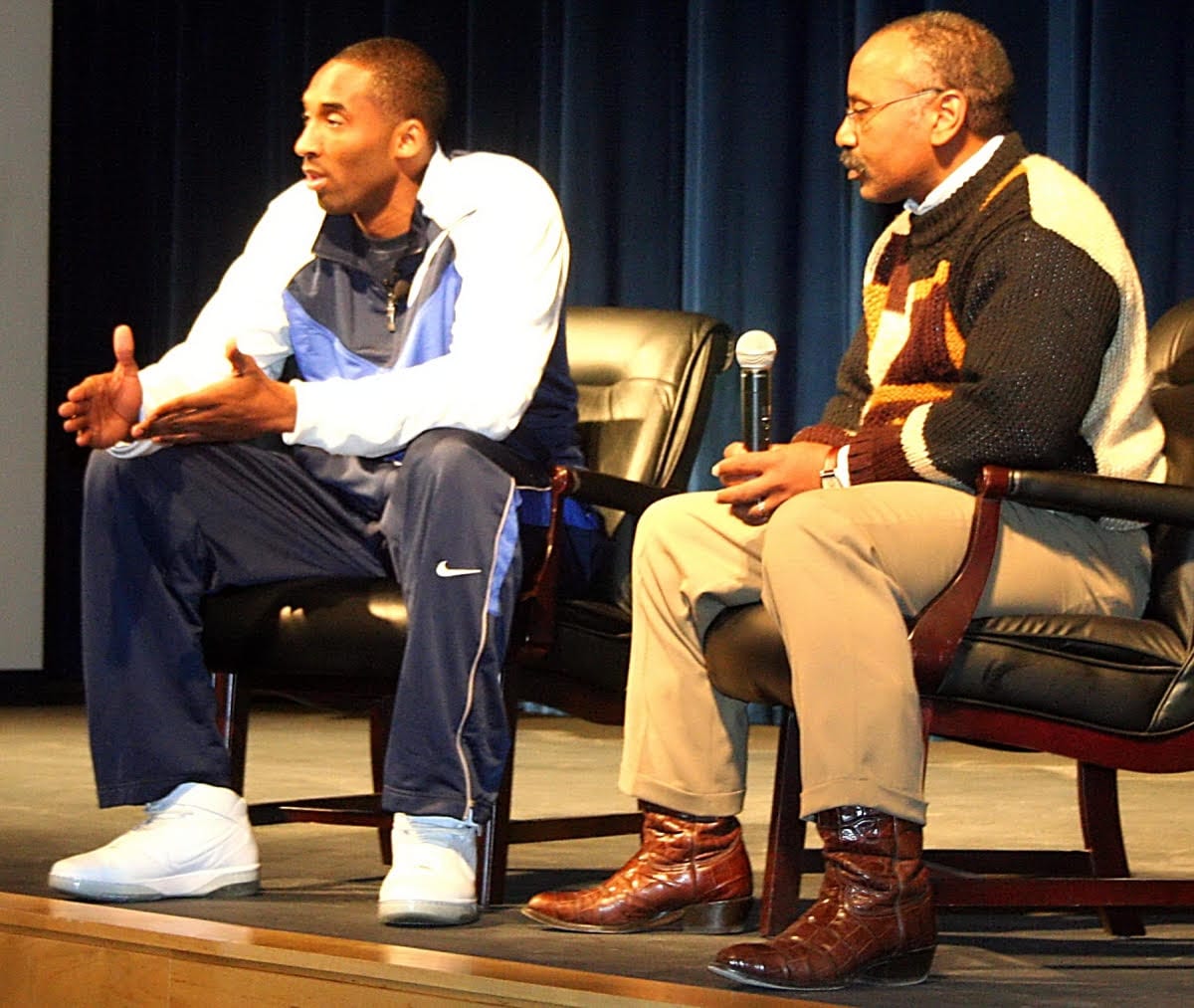 Kobe Bryant (left) and Coach Phil McCrary, Columbia High School in DeKalb County.
By Mackenzie N. Morgan
Staff Writer
Basketball fans in metro Atlanta are mourning the death of NBA legend Kobe Bryant, who died in a helicopter crash in the early morning hours on Jan. 26. The 41-year-old retired shooting guard for the Los Angeles Lakers died along with his 13-year-old daughter, Gianna Bryant, and seven others while on his way to coach his daughter's basketball team in a local youth tournament at the Mamba Sports Academy in Thousand Oaks, California.
The victims included Bryant's longtime helicopter pilot, Ara Zobayan, 50; 13-year-old basketball player and teammate Alyssa Altobelli, parents John, 56 and Keri Altobelli, 46; 13-year-old basketball player and teammate Payton Chester and her mother Sarah Chester, 45 and Mamba Academy assistant Coach Christina Mauser, 38. Several of the victims left behind spouses and children not on the plane. Bryant and his wife, Vanessa, had three other daughters ages 17, 3 and a seven month old baby.
The foggy weather crash is still under investigation and has drawn international attention and an outpouring of support from dignitaries, celebrities, and the collective sports community as people continue to honor and grieve the late basketball legend and the other eight victims.
Congressman Hank Johnson said in a statement to On Common Ground News:
"I'm shocked and saddened at the loss of Kobe, Gianna, and the others who lost their lives in this tragic accident. My prayers are with the families."
Former DeKalb County Athletic Director Charlie Henderson said he has fond memories of Bryant after the NBA star made a special visit to Columbia High School in 2007 while in town to face off with the Atlanta Hawks.
"He didn't come in with fancy clothes and cars. He came in wearing blue jeans and he rode in a taxi and the kids respected him. I became more of a Kobe fan because I saw the person he was," said Henderson.
The two-time NBA MVP was just 29 years old when longtime Hall of Fame Coach Phil McCrary, who was head coach at Columbia at the time, arranged for the basketball player to visit the students and players at Columbia.
"The kids were at attention. They were like sponges and wanted to absorb everything he said. He talked to them about education, hard work, learning other languages and the importance of discipline on and off the court. We're so proud that we happened to be one of the schools that he touched and made a positive influence," said McCrary.
After a full day of taking pictures and signing autographs, the kids, ignited by Kobe's presence, asked the ball player to come to their game the next day. The next evening, Bryant showed up to cheer them on. The Columbia Eagles beat St. Pius 63-18 that night. Bryant commended the team for their hustle and defense.
"That night was unbelievable," said McCrary. "It's a great role model we lost. He lived his life to the fullest and he touched lives. He was a great father figure and mentor to a lot of young men that didn't know him but wanted to be like him," said McCrary.
Former Columbia student, Jordan Lemons, was one of those students who was inspired by Bryant. Lemons, who now works at Columbia, was a senior at the time and said that memory is one he and his teammates hold near and dear to the hearts.
"For him to take the time out his schedule to sit down and talk with us meant a lot to us as individuals and a team," said Lemons. "So many of us were fans of Kobe. He really inspired a lot of youth to work hard at anything they try to do. We got to play a game in front of one of the all-time great NBA players that night. That is a memory no one can take away from us. It is still something the people at Columbia take pride in to this day. I'm thankful to him and the people at Nike for making it happen.
"The loss is unreal. I can only imagine the magnitude of the impact he has had on the world, because I was able to witness it at Columbia. He's going to be sorely missed and the families will be in my prayers," said Henderson.
Rockdale Post 1 Commissioner Sherri Washington expressed her deep sadness over Bryant's death at the Rockdale Board of Commissioners meeting on Jan. 28. Washington said she became a Lakers fan when she moved to Macon, Georgia in 1976 and began following Lakers' basketball great Norm Nixon, who attended Southwest Macon High School.
"The loss of Kobe Bryant is like I've lost a family member. I am so devastated. My heart and prayers go out to his family. Unimaginable, but what a legacy he left,"
Mark Brock, Athletics Specialist for Media Relations contributed to this report.