Testingfg of Ads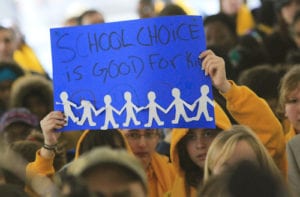 The DeKalb NAACP is holding a "Vote No on Amendment 1" rally on Saturday, Oct. 15, noon, at the civil rights organization's office, 3015 S. Rainbow Drive, Decatur.
The purpose of this event is to inform citizens of DeKalb NAACP's position on Amendment #1, the governor's Opportunity School District, which will be on the ballot on Nov. 8. The DeKalb NAACP asserts that Amendment 1 is deceptive and not in the best interest of the children and parents of DeKalb County.
For more information, contact Lance Hammonds, Education Committee chair NAACP DeKalb County, Office: 404-241-8006 email naacpdek@comcast.net
Ray of Hope to host OSD panel discussion, meet the candidates
Ray of Hope Christian Church's Social Justice Ministry will host a panel discussion on the Opportunity School District referendum on Saturday, Oct. 15, 9 a.m., Ray of Hope Christian Church, 2778 Snapfinger Road, Decatur.
Former State Sen. Steen Miles will serve as moderator of the panel.  The panel discussion will be followed by a meet-and-greet with DeKalb County candidates running for office.  The community is urged to come out and learn about this important ballot issue that we will vote on in the upcoming Nov. 8 election.
State Rep. Karen Bennett to discuss Amendment 1
State Rep. Karen Bennett, HD 94, is hosting a second town hall meeting to discuss Amendment 1 (the governor's Opportunity School District referendum).
The community meeting will be held Oct. 17, 7 p.m., at Crossroads Presbyterian Church, 5587 Redan Road, Stone Mountain.
Bennett, who supports local control, will discuss why voters should oppose Amendment 1. She also will be discussing ex-offenders right to vote and other voting irregularities.
Bennett will be joined by representatives from the Voter Registration and Elections Board, the South DeKalb Improvement Association (SDIA), State PTA and Keep Georgia Schools Local.
For more information, visit www.Karenbennettcares.org or call 404-656-0202.
Mark your calendars for more OSD discussion
The Opportunity School District(OSD), the governor's proposed state takeover of failing schools in Georgia, also will be discussed at the following community meetings:
Oct. 18, 6:30 p.m. at Green Pastures Christian Ministries, 5455 Flat Shoals Parkway, Decatur.
Oct. 24, 7 p.m., First Afrikan Presbyterian Church, 5197 Presbyterian Church, Lithonia
 Georgia Federation of Teachers urge voters to watch videos concerning Amendment 1
The Perfect Storm: The Takeover of New Orleans Schools (Opportunity School District is modeled after the Recovery School District in New Orleans)
Part 1 (17 Days in November): https://vimeo.com/97774578
Part 2 (The Illusion of Choice): https://vimeo.com/119897370
Part 3 (Disenfranchised Communities): https://vimeo.com/161523742
Parents, Teachers & Community Members on Amendment 1: https://www.dropbox.com/s/pzdnatko9s6h7of/Vote No on the OSD (4 min. vrsn.).mp4?dl=0
Center for Popular Democracy report (State Takeovers of ow-Performing Schools: A record of Academic Failure, Financial Mismanagement & Student Harm): http://populardemocracy.org/sites/default/files/National Takeover Ed Report.pdf
For more information about the Georgia Federation of Teachers, call
404-315-0222 or visit the web site: 
http://ga.aft.org