Testingfg of Ads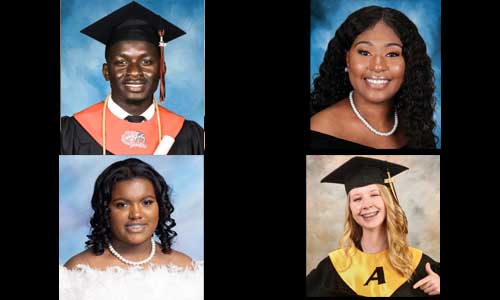 Pictured Top (L-R): Darren Stephens, Iyaunna Cheathem
Pictured Bottom(L-R): Elaina Mosely, Juleigh Lynn
Eight outstanding students pursuing healthcare careers in Rockdale and Newton County schools are recipients of the 2020 Kimberley Chance Atkins Foundation (KCAF) Healthcare Scholarship.
The Kimberley Chance Atkins Foundation Healthcare Scholarship was established in 2016 to recognize students who plan to pursue a career in healthcare. A scholarship is awarded to a student from each traditional high school and career academy in Rockdale and Newton Counties.
Kim Atkins was a beloved and respected teacher in Rockdale County for many years and was recognized as a Teacher of the Year. During her battle with breast cancer, she and her family depended on the care and compassion of many healthcare professionals and the Foundation seeks to honor her love for students and her healthcare team by awarding a $2,000 scholarship to eight deserving seniors each year.
Students were asked to submit an application and answer the following answer question: "How have your education, classes, and personal experiences influenced you to pursue a career in the healthcare field?"
Scholarship recipients from Rockdale County Public Schools are:  Iyauanna Cheatham, Leilani Collantes, Elaina Mosely, Darren Stephens and Sariah Ward.
Scholarship recipients from Newton County Public Schools are: Zion Loucas, Juleigh Lynn and Sarah Schleuter
The Kimberley Chance Atkins Foundation was chartered in 2008 in memory of teacher, wife, mother and friend, Kim Atkins, who passed away at the age of 32 after two battles with breast cancer. The KCAF's mission is to promote breast health in Rockdale and Newton counties through partnerships with organizations like Piedmont Rockdale Hospital, Piedmont Newton Hospital, Diagnostic Imaging, the Rockdale and Newton Health Departments and more.
Events sponsored by KCAF throughout the community to raise funds to fight breast cancer include the Kimberley Chance Atkins Tennis Tournament, Turkey Breast Trot 5K, Kim's Closet at Piedmont Rockdale Hospital and more.
For more information, to volunteer, or get involved, visit www.kimatkins.net.