September 23, 2016
3

min
88
0
Testingfg of Ads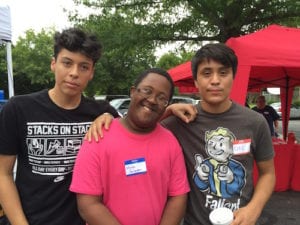 Nearly 100 children and adults with disabilities from around the Atlanta area and their families spent a recent Saturday afternoon riding ponies, climbing in a fire truck, playing miniature golf, singing to karaoke, playing games and more while eating snow cones, candy, and popcorn. The third annual Carnival for Children with Disabilities, sponsored by the youth ages 12-18 from the Conyers Georgia Stake of The Church of Jesus Christ of Latter-day Saints, was held on Sept. 17 at the church building located at 1275 Flat Shoals Road, Conyers. They were assisted by members of the Heritage High School National Honor Society.
When Faith, a 9-year-old with autism was asked what her favorite thing had been, she eagerly shared that it was catching candy. Her sisters, 5 and 8 years old, loved riding the ponies as well as eating popcorn. Joseph Palmer, 10, who attends Flat Shoals Elementary School, smiled while his mother, Lorraine, shared: "He's having a great time."
Myles Henderson, a 15-year-old student at Henderson Middle School in DeKalb County, was quick to point out the fact that his name and the school's was the same. He did not want to have his picture taken holding his snow cone, but he quickly gave it to his mother in order to have his picture taken with his individual peer guides, Andres Hernandez, 17, a student at Charles Drew High School in Riverdale and Noe Cortes, a 15-year-old student at Elite Scholars Academy in Morrow.
Sonya Morrison, who has a daughter with spina bifida, said she thoroughly enjoyed the carnival.
"We felt so much love from the youth and their leaders," said Morrison. "Parents of children with disabilities sometimes feel like they are working alone so events like this are important to show that there are others who care."
Clark Hanson, 14, from Covington said he enjoyed serving as a guide for the carnival.
"The experience as being a guide for a person with special needs was great. It just broadens your understanding of special need kids a lot," Hanson said. "I used to think that they just were totally in a different world, but they understand a lot more than we think. I also realized that things like these are not just for special needs kids to have fun; it's for us to learn more about them and to grow and be more aware of [them] and what they can actually do."