Testingfg of Ads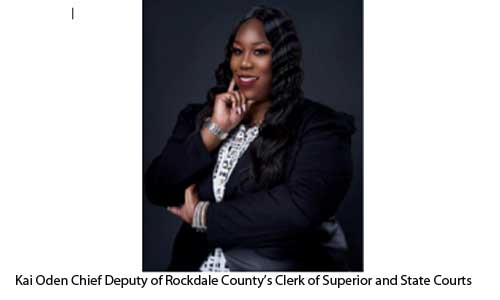 Newly -elected Rockdale County Clerk of Superior and State Courts Janice Morris announced the appointment of Kai Oden to the role of Chief Deputy for the Rockdale Clerk of Superior and State Courts.
Oden, a Rockdale County resident, brings a wealth of knowledge to the Clerk's Office with over 10 years of professional experience in the criminal justice and government field, and seven years of managerial experience as a program manager previously under the Georgia Department of Juvenile Justice where she provided oversight of the Gwinnett Community Service Office. She has received multiple certifications and awards, which include the Commissioner Service Award in 2019 and 2018 under the Juvenile Justice   Agency.
"Kai Oden understands what drives government operations and how to spread awareness of a department's mission and vision efficiently for optimum success, said Morris.  "She will bring her senior-level expertise and managerial experience to ensure all work-in-progress is continued and effectively executed within the Rockdale County Clerk of Superior and States Court."
Oden holds a Master of Public Administration in Executive Leadership from Strayer University in Lithonia, Georgia and a Bachelor of Arts in Communications from Clark Atlanta University in Atlanta, Georgia. She has several training certifications to include Management Development, Records Management, Emergency Management Planning, Security Awareness, and a Cybersecurity, to name a few. She is the proud mother of one son.