Testingfg of Ads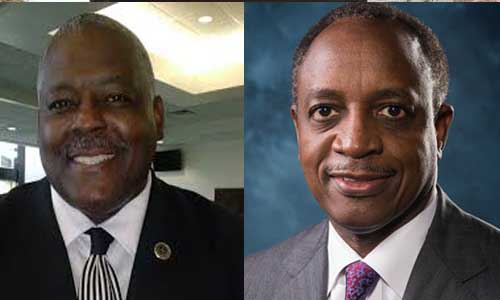 DeKalb County officials are working on an initiative that would include a mobile crisis unit that responds with police on calls concerning the mentally ill, substance abuse, suicides and domestic violence. The initiative is one that former retired Lt. Col. Amos King, who heads Justice for Veterans, applauded DeKalb County's CEO Michael Thurmond for after a meeting on Nov. 16 with the CEO, DeKalb Police Chief James Conroy and Deputy Chief Sonya Porter.
"We had a good meeting. I'm glad we had the opportunity to sit down and talk," said King, who had spent weeks pressing for a meeting to discuss how police can improve handling cases involving mentally ill veterans. King has been on the front lines fighting for justice for mentally ill veterans who have been killed by the police or are incarcerated. On Veterans Day, Nov. 11, King's organization held a prayer vigil outside the courthouse in downtown Decatur to remember mentally ill veterans who have been killed by law enforcement officers.
King said the mother of v27-year-old Quintas Harris, the most recent veteran killed by police, attended the prayer vigil. Harris, who suffered from PTSD and schizophrenia, died on Aug. 8 after a shootout with police. Harris fired, injuring one officer's hand.
King said his two-hour meeting with DeKalb officials took place at the DeKalb County Police headquarters in Tucker. Deputy Chief Porter shared information on how the mobile unit, which will have a nurse and officer on board, would operate,
Porter was promoted to assistant chief of the newly elevated Support Services Division in July. In addition to overseeing the mobile crisis unit, Porter is over the Police Training Academy, recruitment and outreach services including the Police Athletic League, chaplain program and the Citizens Police Academy.
King said his visit included a tour of the 911 center.
"I wanted to let them know that we're here to help them in any way that we can," said King.
King said although the CEO said he could not discuss any of the police-involved shootings, he was satisfied that the county is taking steps to address the problems.
King said he would continue to monitor the case involving Anthony Hill, the unarmed veteran who was shot and killed by a DeKalb County Police officer after officers responded to a call of a naked man acting erratic outside of an apartment complex. Hill was shot by former DeKalb Officer Robert Olsen.
King said Millicent Williams, 78, might still be alive today, if her grandson, Gregory Williams, had gotten the help he needed. Gregory Williams, who was suffering from Post-Traumatic Stress Syndrome, is preparing to stand trial for her death.