Testingfg of Ads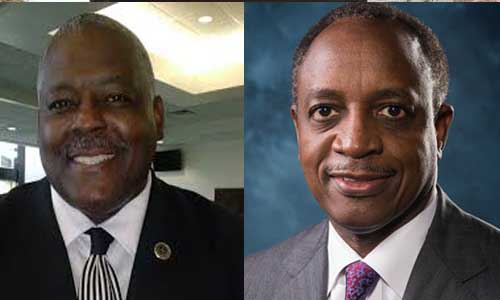 L-R: Retired Lt. Col. Amos King and DeKalb County CEO Michael Thurmond
As military veteran Gregory Williams prepares to stand trial for killing his 78-year-old grandmother, retired Lt. Col. Amos King, who heads Justice for Veterans, said DeKalb County CEO Michael Thurmond has refused to meet with his organization and discuss a plan of action for veterans suffering from mental illness.
King said Millicent Williams, 78, might still be alive today, if Gregory Williams, who was suffering from Post-Traumatic Stress Syndrome, had received the help he needed.
"I don't think he (Thurmond) has the veterans' best interest at heart," said King.
"It's a sad tragedy that as we near Veterans Day, our veterans are treated this way by the county's top official. We're to help and we can't even get a meeting with him."
King said he tried three times to set up a meeting with the CEO but still has not heard from him. He said Thurmond directed other staff to meet with him, but the CEO has not scheduled a meeting for himself.
"Over a year ago, we met with then CEO Lee May and DeKalb Police Chief Cedric Alexander and we still don't have policies and procedures in place to deal with veterans who are suffering from mental illness," said King, who has held rallies for Anthony Hill, the naked veteran who was shot and killed by a DeKalb County police officer. Hill was battling mental illness. "We've met with Cobb County officials to discuss problems there concerning the police and they have put policies and procedures in place that they are now using. We want to do the same thing in DeKalb."
Thurmond said in a statement that he and county officials are working to address  concerns:
"I recently had a private meeting with the mother and father of a veteran who tragically lost his life after an encounter with DeKalb County Police.  I promised the parents that DeKalb County would do more to protect and save the lives of residents with mental illnesses.
"Under the direction of Assistant Chief Sonya Porter, who is responsible for police training, we convened a roundtable meeting of more than two dozen state, local and national mental health experts to discuss how to de-escalate confrontations and develop training recommendations and guidance for county police.
"The mental health roundtable continues to meet to identify better ways to respond to situations and identify steps that are needed to save lives and to give residents with mental health issues the help that they need such as referrals and available resources for treatment.  The goal is to peacefully resolve encounters by de-escalating a situation rather than using force.
"The mother of the deceased veteran is scheduled to meet with the roundtable and share her experience."
Thurmond also stated that over half of DeKalb's sworn officers have passed crisis intervention training. He said he plans to request funding in next year's budget to continue the mental health roundtable and provide training and other resources to better respond to situations involving mental health issues.
"The DeKalb County Police Department will welcome a meeting with Lt. Col. King to discuss his plan of action to help veterans who suffer from mental illness," said Thurmond. "One life lost is one life too many."
King said Justice for Veterans is planning to honor military veterans on Nov. 11, Veterans Day, 1 p.m., outside the DeKalb County Courthouse in downtown Decatur.