Testingfg of Ads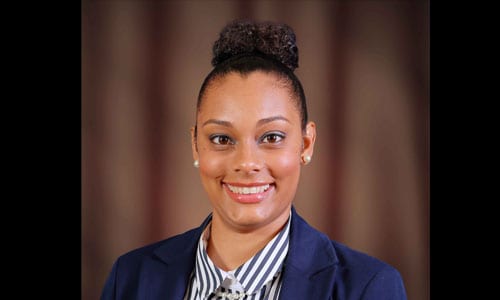 DeKalb County Superior Court Judge Mark Anthony Scott on Friday (Feb. 14) ruled that Stonecrest Councilwoman Jazzmin Cobble may keep her elected seat.
Scott, however, must still issue the written order for his ruling to be official.
The city had filed a declaratory judgment action this week to ask whether Cobble must forfeit her seat because she missed too many City Council meetings last year, based on the city's charter.  The city's charter, Section 2.03 (a) states that a council person forfeits his or her office by "failing to attend one-third of the regular meetings of the council in a three-month period without being excused by the council. " Cobble missed City Council meetings on Sept. 23 and Oct. 14, which she told On Common Ground News were due to work.
Scott did not spend time discussing the city's charter or Cobble's absences. Scott denied the city's request to remove Cobble from office, saying that he was not "hung up on due process issues."
"I don't think anyone really knew how to go about requesting an excused absence. In this political climate that we exist in, I think that it's been made clear across America that you just don't remove people from office by vote of the body," said Scott, after hearing from Attorney Emily Macheski-Preston of Coleman Talley, LLP, which represented the city of Stonecrest, and Attorney Bryan Tyson of Taylor English Duma, which represented Cobble.
Cobble, along with council members Tammy Grimes, George Turner and Rob Turner and Mayor Jason Lary attended the hearing.
Scott acknowledged the city's infighting, telling those in the courtroom that he wished the best for Stonecrest and hoped that they "find a way to govern themselves peacefully."
The judge said the city could submit a motion for reconsideration by the close of business on Tuesday, since Monday, Feb. 17, is President's Day.
Cobble issued the following statement in an e-mail to On Common Ground News:
"I'm pleased that Judge Scott agreed with us to deny the motion and keep the City Council intact. I look forward to continuing to serve the people of Stonecrest and hope we can all move past these petty political fights to the important business of the people.
Thanks a bunch!
Jazzmin Randall Cobble
Stonecrest Mayor Jason Lary said the city would abide by the judge's decision.
"The judge determined that she could remain in her seat until this matter is resolved," Lary said. "To be able to help resolve this matter, State Sen. Emanuel Jones and State Rep. Vernon Jones have committed to reviewing the charter concerns including addressing ambiguity in this section of the charter and issues that I have been asking for three Legislative sessions."