Testingfg of Ads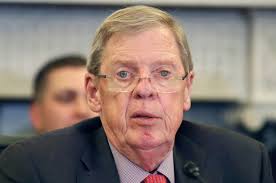 Leaders throughout Georgia say they will miss Isakson's leadership  
Republican U.S. Sen. Johnny Isakson says he plans to resign from office on Dec. 31 due to failing health. Once Isakson vacates the seat, Gov. Brian Kemp plans to make a temporary appointment until a special election is held in November 2020. The Georgia senator has three years unexpired on his term.
The 74-year-old, who has Parkinson's disease, said in a statement that he is dealing with mounting health issues, and must step down.
"…I am leaving a job I love because my health challenges are taking their toll on me, my family and my staff. My Parkinson's has been progressing, and I am continuing physical therapy to recover from a fall in July. In addition, this week I had surgery to remove a growth on my kidney," Isakson said in a statement issued on Aug. 28.
"In my 40 years in elected office, I have always put my constituents and my state of Georgia first. With the mounting health challenges I am facing, I have concluded that I will not be able to do the job over the long term in the manner the citizens of Georgia deserve. It goes against every fiber of my being to leave in the middle of my Senate term, but I know it's the right thing to do on behalf of my state.
"I look forward to returning to Washington on September 9 when the Senate goes back into session. And after December 31, I look forward to continuing to help the people of Georgia in any way I can and also helping those who are working toward a cure for Parkinson's."
Isakson was diagnosed with Parkinson's disease in 2013. In July, Isakson fell and suffered four fractured ribs and a torn rotator cuff. Isakson underwent surgery in August at WellStar Kennestone Hospital in Marietta to remove a carcinoma growth from one of his kidneys.
Kemp and First Lady Marty Kemp said Isakson would be sorely missed:
"No one embodies the heart and soul of Georgia more than Johnny Isakson," said Kemp. "Our state and country have been immeasurably blessed by his leadership in the Georgia General Assembly, U.S. House, and U.S. Senate. Senator Isakson's list of accomplishments on behalf of the state that he loves is long and revered, but what Georgia should be most thankful for is the high standard that Johnny held as a true gentleman, a fighter for his constituents, a trusted advocate for our nation's veterans, and one of the greatest statesmen to ever answer the call of service to our country. Marty and I are forever grateful for the friendship that Johnny and Dianne have shown us over the years and wish them the very best in the years to come. I will appoint Senator Isakson's replacement at the appropriate time."
"Senator Isakson is a lifelong family friend, and we are deeply grateful for his dedicated service to our state and nation, including alongside my father in the Georgia General Assembly," said First Lady Kemp. "Georgia is incredibly blessed to have had Johnny on our side for all these years. Our family is praying for Johnny and Dianne as they embark on this new journey."
Isakson, who won re-election with 54 percent of the vote in 2016, became the first Republican in Georgia to be elected to a third term in the U.S. Senate. He served in the Georgia House and Senate in addition to the U.S. Senate.
Speaker David Ralston (R-Blue Ridge) praised Isakson for a distinguished political career.
"The loss of Johnny Isakson from public life will leave a void in Georgia which is beyond comprehension," Ralston said. "While I respect his reasons, I feel a tremendous sense of personal sadness – Johnny is a mentor, role model and friend. Over a distinguished career in the Georgia House, Georgia State Senate, State Board of Education, U.S. House and U.S. Senate, Johnny Isakson demonstrated that civility and reasonableness are virtues that will never go out of style. My family and I will continue to pray for Johnny, Dianne and the Isakson family."
Congressman Hank Johnson, who represents Georgia's Fourth District, described Isakson as a man of principle and said Georgia will lose a consummate public servant when he leaves office.
"I am saddened to hear that Sen. Johnny Isakson is stepping away from his seat in the United States Senate. Despite our disagreements on the important issues of today, I have always respected Sen. Isakson for his work ethic on behalf of Georgia, and for he and his staff's willingness to meet with any constituent, regardless of political leaning and regardless of the issue. His doors have always been wide open to all Georgians, and his constituent services operation and his legislative shop have been very effective. I extend my warmest regards to Sen. Isakson, his family and his staff as he transitions to private life."