Testingfg of Ads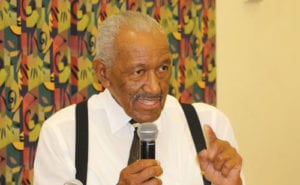 John Evans, who devoted 16 years to the DeKalb County NAACP branch, has resigned from the civil rights organization to focus on his own civil rights organization, Operations Lead,. Evans stepped down on July 16.
Teresa Hardy, 1st vice president, moved up to take the helm as president as stipulated by the organization's constitution and bylaws. She will hold the position until November and then run for the office when the organization holds its elections.
"We are honored to have been under Mr. Evan's leadership for over 16 years and send many blessings as he continues to fight for the people," said Hardy.
Cherry Willis, 2nd vice president, is the new 1st vice president, and Zepora Roberts, 3rd vice president, is the 2nd vice president, the NAACP announced in a news letter to members.
Hardy has spent 10 years serving with the DeKalb NAACP. She was born and raised in Lineville, Alabama by her parents, Billy and Ada Hardy. She is the mother of one son, Jomarius, who is a 2011 graduate of Southwest DeKalb High School.
After graduating from Lineville High School, Hardy attended the University of Alabama at Birmingham, where she received a Bachelor of Science degree in Management Information Systems and Human Resource Management.
Currently, Hardy is a Manager at Accenture. She has over 15 years of Information Technology experience in various roles including project/program management, application architect, software development, process methodology. She is responsible for leading global teams, managing projects with multi millions in revenue, and developing best practice methodologies for application software. She also serves as the Atlanta Diversity Lead for African Americans and Women's Networking Group.
Hardy is a Silver Lifetime member of the NAACP DeKalb Branch. In addition to her commitment to the NAACP, Hardy also serves in many community organizations: president of Rainbow Creek HOA, board member of Team BLUE (Tennis Organization), and the DeKalb County Citizen Website Advisory Committee. She is also a member of the Atlanta Black Chamber of Commerce and a member of Salem Bible Church, where she serves on the Christian Education ministry and Political Action Ministry.