Testingfg of Ads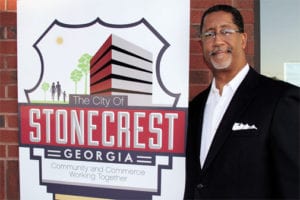 Jason Lary, who led the Stonecrest cityhood movement to victory, announced today that he plans to run for mayor of the new city.
Lary said that as the chief architect of the Stonecrest Yes Committee, he is ready to give birth to the vision of economic development and self governance that he and others have worked on for so long.
The referendum to create the city of 50,000 residents passed on Nov. 8.
"After four years of being the person who has put it together, selected the team and worked on the model for the city, I believe that I am uniquely qualified to lead the city," Lary said. "I think I can continue to make the difference in drawing economic development for the city."
Lary, along with members of the Stonecrest Yes Committee, held a victory celebration with a crowd in attendance at the Fairfield Inn at Stonecrest on Tuesday.
Also on Tuesday, Gov. Nathan Deal announced that he is taking recommendations for the City of Stonecrest and South Fulton's five-member commissions following the passage of HB 514 and SB 208 by the General Assembly in the 2016 legislative session. The referendums for each passed with 59 percent.
"We are looking for community members to help shape the formation of the City of South Fulton and the City of Stonecrest," said Deal. "As we continue to work with the General Assembly to form these commissions, we seek the assistance and leadership of individuals in these areas to help guide residents and facilitate the new cityhood process."
Under this legislation, the governor will create a five-member commission consisting of a chairman and four others who reside in each council district within the city. The commission will stop serving when the city councils of both municipalities are elected next spring.
The interim representatives will facilitate the provision of municipal services and facilities, the collection of taxes and fees, and the negotiation of intergovernmental agreements in preparation of the establishment of the new municipality. The interim representatives shall not have the ability to enter into any binding agreements, to expend public funds, or to incur any liability on behalf of the new municipality. Any person who is serving as or has served as an interim representative shall be ineligible to qualify for election as a member of the initial governing authority of the new municipality.
Those interested in applying should submit applications or recommendations to appointments@georgia.gov.