Testingfg of Ads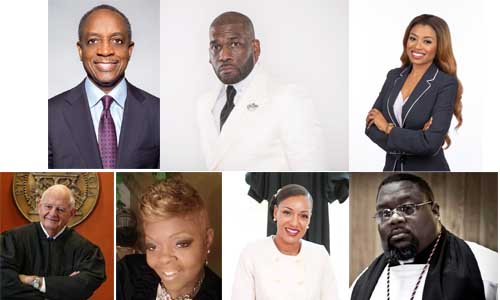 Pictured Top L-R: Michael Thurmond,Pastor Jamal Bryan and Sherrexcia Rolle
Pictured Bottom L-R: Hon. Clarence F. Seeliger, Hon. Ashleigh Dunston-Parker, Carolyn Collins and Travies Mims
JABY INC. has announced its honorees for the 2019 International Trailblazer Awards, which will be held July 21 at the Atlanta Commerce Club, 191 Peachtree Street, Atlanta. The awards recognize outstanding trailblazers who are transforming communities around them and raise scholarships for outstanding high school students. 
We are excited to celebrate 11 years of honoring outstanding community leadership. The annual program helps us to award scholarships to send our young people to college," said Ceasar Gaiters, co-founder of JABY.
Last year, JABY provided three $1,500 scholarships to high school students and two $5,000 grants to community groups instrumental in making a difference in the lives of others. 
The 2019 Honorees are:
DeKalb County CEO Michael Thurmond
DeKalb County Superior Court Judge Clarence F. Seeliger
New Birth Missionary Baptist Church Pastor Jamal Bryant
Western Air Vice President Sherrexcia Rolle
Wake County, N.C. District Judge Ashleigh Dunston-Parker
Veteran Travies Mims
Tucker High School's Community Angel Carolyn Collins.
The event will include musical performances by R&B artist Ericka Lee and Atlanta artist Tunisia Bowen, along with a performance by Mentalist Mark Johnson.
The VIP red carpet event will begin at 5:30 p.m. with a silent auction. The Red Carpet will be hosted by WSB-TV's Veronica Waters. The awards program will begin at 7 p.m. with the doors opening at 6:30 p.m.
To purchase tickets for the event, visit https://www.eventbrite.com/e/2019-international-trailblazer-awards-tickets-48530709659ot  
No ticket sales at the door. call 404-913-9791.