Testingfg of Ads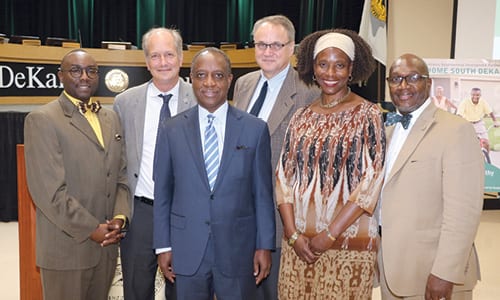 By Valerie J. Morgan
Atlanta Neighborhood Development Partnership (ANDP) has announced a three-year initiative to provide affordable homeownership and new capitol to improve areas hardest hit by the foreclosure crisis in DeKalb County.
ANDP President and CEO John O'Callaghan said the private, nonprofit organization is investing $20 million in the "Home South DeKalb" initiative, which will target ZIP codes such as 30038 and 30035, which have among the highest percentage of negative equities.     
O'Callaghan said the initiative includes dozens of partners—from  banking and lending institutions to developers and builders to community and governmental entities—all working together to provide housing, health and educational resources to homeowners.
The initiative will expand ANDP's footprint in DeKalb, where the organization has purchased, rehabbed and sold more than 200 single-family homes since ANDP was created in 1991 to promote, create and preserve affordable housing throughout metro Atlanta. The new effort will result in 100 newly redeveloped single-family homes, O'Callaghan said.
"We are excited to launch this holistic housing initiative to South DeKalb," said O'Callaghan said. "We're going to be focused on homeownership. It's not exclusively homeownership, but we believe that's key.  We're going to be acquiring, rehabbing, perhaps some new construction, single-family homes that are going to be for sale largely to low to moderate income homeowners." 
O'Callaghan said the initiative also would a include a lease-purchase component, down payment assistance programs through Wells Fargo and other lenders, as well as the Home Depot Foundation, which provides down payment assistance for veterans.   
DeKalb CEO Michael Thurmond, who joined O'Callaghan at the July 18 news conference for the announcement, applauded ANDP's investment in DeKalb.
"The Home South DeKalb initiative complements the county's renewed commitment to eradicating blight, improving affordable housing opportunities and enhancing quality of life for all DeKalb County residents," said Thurmond. "When we create homeownership opportunity, particularly for people of color, it's not just the roof but it is also the wealth—the generational wealth—that you create."    
County officials say the initiative is one that is sorely needed in South DeKalb. More than 10 years after the start of the foreclosure crisis, South DeKalb homeowners are struggling with the aftermath of underwater home values.  South DeKalb lost more than 18,000 homeowners during the foreclosure crisis, and nearly one in three of its homeowners now owe more on their mortgages than their homes are worth.   
DeKalb Commissioner Jeff Rader, presiding officer of the Board of Commissioners, praised the supportive partnerships built into the program. Rader, along with Commissioners Larry Johnson, Gregory Adams and Lithonia Mayor Deborah Jackson, attended the news conference for the ANDP announcement.
"We saw the dangers of unsupported homeownership in  DeKalb when we saw a great rise in foreclosures and people's credit ruined, their lives destabilized and the loss of a major investment.  That is going to be something that this effort will help to substantially counter act and not only will it do it for those who participate directly in the program, it's going to raise the bar in DeKalb County where we will be able to build that sort of sustained homeownership and intergenerational wealth.  
DeKalb Commissioner Larry Johnson said he hopes that ANDP's initiatives will also fuel the economy. 
"We're doing so much to move us forward.  We're going to make this work. We're going to make you proud. We just need more investments. We want to have more jobs to go along with homeownership," said Johnson.
Adams said he sees ANDP's effort as a way to continue building bridges in DeKalb. 
"It's so key that we come together to build bridges. As we work with the banks and our constituents, we are strengthening our neighborhoods," Adams said. 
Mayor Jackson also applauded the Home South DeKalb initiative and CEO Thurmond.
"We are really excited about this opportunity. We applaud the leadership of our county CEO and commissioner. While the impact of the housing crisis has faded from the headlines, the results of the crisis continues to affect many families particularly in South DeKalb," said Jackson. "The issue of negative equity where the value of the property is less than the mortgage that is owed is still a serious problem in many of our communities.