Testingfg of Ads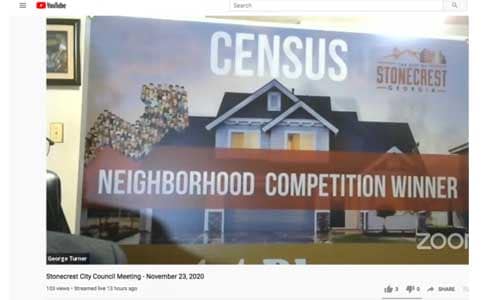 STONECREST—Mayor pro tem George Turner announced the community subdivisions that won the city's 2020 Census campaign competition at the Nov. 23 City Council meeting, which was held virtually.
Turner, who represented the city of Stonecrest on DeKalb County's Complete Count 2020 Census effort, said the top three communities with the most residents to complete the critical census would each receive a plaque and banner honoring their efforts. Turner said the city held the competition to encourage community participation in completing the mandatory 2020 U.S. Census.  
In addition to honoring the winners, Turner thanked all of the subdivisions throughout the city for their participation, as well as City Council members Rob Turner, Jimmy Clanton, Tammy Grimes and Jazzmin Cobble, and the Complete Count committee volunteers who participated with the city's efforts, saying they were all winners. The mayor pro team said, however, that it was difficult to measure which subdivisions actually won because Census tracts were used to determine the number of participants who filled out the Census questionnaire.
Turner announced the following as winners:
Hunter's Communities and Bramble Wood Subdivision came in first place with 70.5% of residents living in Census tract 234-27 completing the critical Census.
Winchester, Belmont Estates and the Harbor Mills community placed second with 67.1 percent of residents in Census tract 234-32 completing the Census.
Trinity Place and Serenity Lane came in third with a 63.9 percent completion rate for Census Tract 234-33.
"The numbers above represent the self-counts; by phone, internet or mail back registrations," Turner said, adding that numbers from paid Census enumerators (door knockers) still must be added to the city's self-count numbers. Enumeraters, he said, achieved a 99.9 % response from the homes they contacted. Total tallies will be available next year.
Turner said the city of Stonecrest, which has a population of about 54,000, had an overall Census participation rate of 57. 1%,  based on the city's self-count report.
Turner said after assessing all of the reports, the numbers weren't "so bad" after all  He applauded the city's efforts, saying that the effort still was significant considering that $24,000 in federal funding would be awarded for every single person counted in the city for the next decade.
The Census was held to count every person living in the United States and the five U.S. territories.  Every year, billions of dollars in federal funding go to hospitals, fire departments, schools, roads, and other sevices based on census data.
The results of the census also determine the number of seats each state will have in the U.S. House of Representatives, and they are used to draw congressional and state legislative districts.