Testingfg of Ads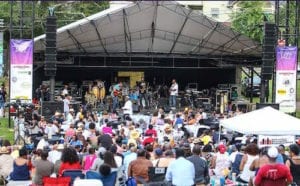 Hundreds filled the Lithonia Amphitheater for On Common Ground News' "A Night of Smooth Jazz" on Aug. 20 featuring headliners Ronnie Laws and Lonnie Liston Smith. The crowd also enjoyed special guests Jaman Laws, Julie Dexter, Joey "Papa J" Sommerville, Rhonda Thomas, Groove Centric and DJ Naturel.
While some concert patrons brought their picnic baskets and coolers, others purchased barbecue, crab legs, shrimp and Italian icees from vendors. VIPs were treated in elegant fashion—by candlelight at linen-covered tables and chairs for the outdoor event.
JFly, who produced the event, will join On Common Ground News in presenting a a concert on Sept. 10, 7 p.m., at the Lithonia Amphitheater: This time, legend Peabo Bryson will headline "A Night of Jazz and RB" with Eric Essix and AdMixture. Stay tuned: More acts are expected for the show. Advance tickets start at just $30 and $35 at the gate. Tickets are available at www.ocgnews.com. For more information on VIP seating and the Royal Pavilion or vending opportunities: 678-526-1910.
To view photos from the Ronnie Laws concert, visit us on Facebook at On Common Ground News (Official).