Testingfg of Ads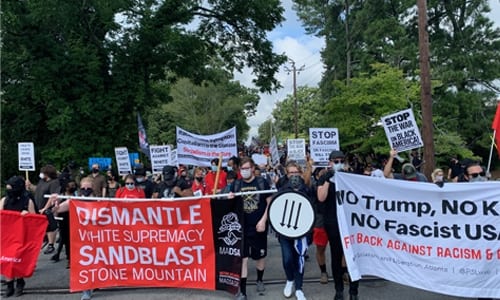 Hundreds of protestors clash in showdown in downtown Stone Mountain, Aug. 15, 2020, Photos by Kelly Jordan
Photos by Kelly Jordan
STONE MOUNTAIN—Hundreds of white supremacists, heavily armed militia, the NAACP and Black Lives Matter operatives clashed on Aug. 15 as arguments over the removal of Confederate monuments and politics became tense. Some small fights broke out as groups shouted at one another, spraying insect repellant or pepper gas, but a heavy police presence in the city's downtown curtailed serious violence. Law enforcement officials reported no arrests.
DeKalb County Police Chief Mirtha Ramos issued the following statement:
"Thanks to a coordinated effort led by the DeKalb County Police Department in close collaboration with the City of Stone Mountain, today's demonstrations in Stone Mountain resulted in zero injury complaints, zero arrests, and no uses of force.
For over a week, the DeKalb County PD worked with the Stone Mountain Police Department, the DeKalb County Sheriff's Office, the Georgia National Guard, the DeKalb County Marshals Office, DEMA, and the Georgia State Patrol to strategically plan and coordinate our efforts. The goal was to allow the protesters to exercise their first and second amendment rights, while ensuring the safety of the community, the protesters and the officers."