Testingfg of Ads
DeKalb Commissioner Larry Johnson prepares for a radio interview as volunteers pass out frozen turkeys in purple bags and Mission Agape gives out coats. Photos provided.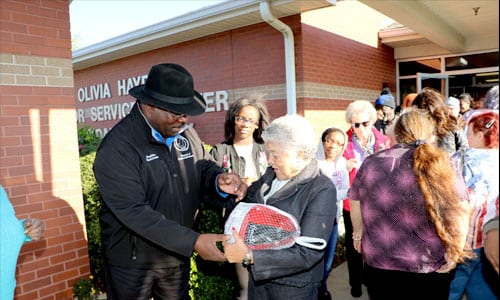 A senior shows her gratitude with a smile to Rockdale BOC Chairman Oz Nesbitt, who helped distribute turkeys at the Olivia Haydel Senior Center. Photo by Glenn L. Morgan/OCG News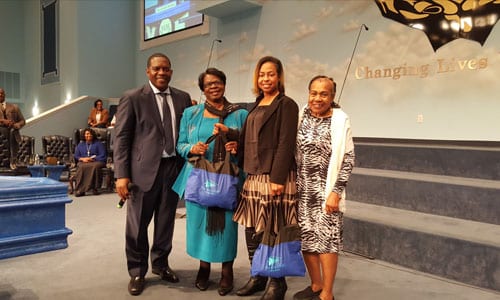 Kristy Gaiters, founder of Just About Blessing You, pictured with Bishop Gary Hawkins (left), presents turkeys to seniors at Voices of Faith Ministries Rockdale campus. JABY also gave turkeys to seniors at the church's Stone Mountain location. Photo by Glenn Morgan/OCG News
By Valerie J. Morgan
Across DeKalb and Rockdale counties, Good Samaritans opened their hearts and wallets to pitch in to make the Thanksgiving holiday joyous for hundreds who often struggle to make ends meet. Nearly 500 turkeys were distributed to needy families who came to the Gallery at South DeKalb Mall on Nov. 18 for the Women in DeKalb NAACP's fifth annual turkey giveaway. Another 350 turkeys, along with boxes of food, were given away at Exchange Park Intergenerational Center in Decatur. DeKalb Commissioner Larry Johnson co-sponsored both of the events, with dozens of volunteers pitching in to make the events successful.
"We had a long day of service," said Johnson. "It's about doing what we can to help others. We appreciate all of the community support, the donations, the volunteers who are willing to serve."
Johnson said the Women in DeKalb NAACP's event, in its fifth year, drew a crowd, and the turkeys went quickly. Mission Agape was also at the event distributing coats to the needy.
At Exchange Park, there also was a crowd who came out for the 4th Annual Turkey Classic, which Johnson co-sponsored with the Georgia Spartans semi pro basketball team.
In Rockdale County, Board of Commissioners Chairman Oz Nesbitt hosted his 7th Annual Turkey Drive, providing 300 birds that were donated by the community to help needy seniors.
Nesbitt and Rockdale's newly-appointed team of ambassadors passed out the turkeys on Sunday, Nov. 19, at the Olivia Haydel Senior Center, 1240 Dogwood Drive.
Nesbitt had encouraged families in Rockdale to get involved by taking their children to shop for a turkey to donate and then allowing the children to make the donation.
"We have to teach them at a young age to give," Nesbitt said.
Nesbitt said corporate sponsor, Courtesy Ford, 1636 Dogwood Drive, Conyers, served as the drop-off point for the donations.
The two events in DeKalb and turkey drive in Rockdale were among the dozens of efforts by individuals and groups giving back this Thanksgiving season.
DeKalb business owners Ceasar Gaiters and his wife, Kristy, for example, provided turkeys to senior citizens at Voices of Faith Ministries. The Gaiters provided the turkeys through their non-profit, Just About Blessing You, Inc. (JABY).
The Resource Center for Community Action (RCCA) hosted its Thanksgiving mobile food pantry distribution on Nov. 16 at 1400 Parker Road in Conyers. Volunteers helped pass out food boxes during the half-day give away.
The Unique Corvettes Club pitched in to assist 50 needy families at Pine Street Elementary School in Rockdale. The club provided 50 turkeys to students from needy homes, said Tommy Plummer, a member of the club. Plummer also made sure juveniles at the Rockdale Detention Center received a pre-Thanksgiving Day meal with all of the trimmings. The Rockdale NAACP partnered on the effort.