Testingfg of Ads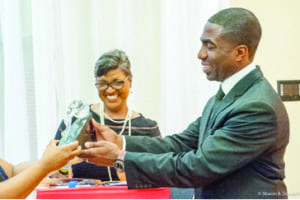 Approximately 600 people attended the culminating event of a weeklong 10th anniversary celebration of the Lou Walker Senior Center (LWSC), located at 2538 Panola Road, Lithonia.
The event featured a red carpet reception, silent auction benefiting the center, and Broadway-style production celebrating the life, work and legacy of founder Lou Walker.
DeKalb County Interim CEO Lee May was presented the center's Spirit of Lou Walker Award.
"It means a lot for me to be honored with an award that bears the name of man who did so much for DeKalb County and for seniors," Interim CEO May said. "The legacy of Lou Walker is alive and well in DeKalb County."
The red carpet event was one of several that celebrated the anniversary of the center's official opening in January 2006 as a one-of-a-kind multipurpose facility for active senior adults, ages 55 and older. The 40,000-square-foot facility, which offers world-class amenities and programming, has had more than 1.3 million visits in the past decade and serves approximately 600 members daily.
"We wanted to use the 10th anniversary as an opportunity to say 'thank you' to all the people who made the Lou Walker Senior Center possible," said LWSC Director Bettye Davis.
As part of the celebration, The LWSC Drama Club put on a production titled "They Call Him Lou," which portrays the life of Walker, a community activist for more than two decades and a DeKalb County commissioner from 2000 until his death in 2004.
"We wanted people to learn more about Lou Walker the man," Director Davis said. "The drama club did an excellent job. The audience left the production with a better sense of who Lou Walker was and how the center became the place it is today."
Davis said the anniversary celebration has resulted in increased interest in the center.
"So many people didn't know we were here and didn't know what was going on with the center," Director Davis said. "Now, more people seem to want to get involved. The anniversary infused a new excitement about getting involved in the community."
For more information about the Lou Walker Senior Center, call 770-322-2900.