Testingfg of Ads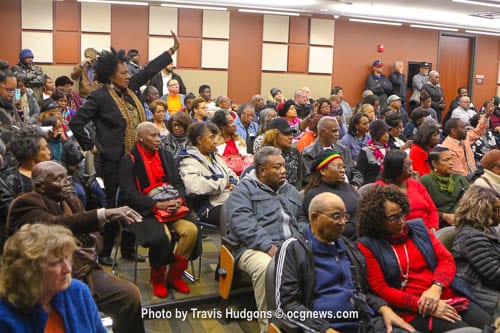 Hundreds turned out for the town hall meeting on the abrupt Stonecrest Sam's Club closing hosted tonight (Jan. 16) by State Rep. Vernon Jones. Many said Wal-Mart, the parent company for Sam's Club, did not provide detailed answers on why the store suddenly closed Jan. 11. Glen Wilkins said performance, the future growth of Sam's Clubs and the impact of other clubs in the area is what officials based their decision on to close the club. However, one employees said the Stonecrest store was earning over $100,000 a day.
DeKalb Commissioner Mereda Davis Johnson blasted Wal-Mart executives in handling the store's closing and she said the only way to impact Wal-Mart stores was to hit them in the wallet, urging constituents to stop spending with the companies.
Stonecrest Mayor Jason Lary asked how is it that the Stonecrest store was closed as a fairly new store when there are older stores in the area that were left untouched. Fast forward to the 15:10 mark to listen to Mayor Jason Lary's reaction to the Stonecrest Sam's Club closing.
State Rep. Doreen Carter said (10:00) Wilkins "danced around the questions" and she said we need to "shut down" Wal-Mart stores.
https://www.facebook.com/ocgnews/videos/10155077878546825/