Testingfg of Ads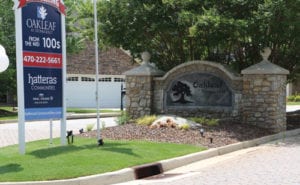 By Valerie J. Morgan
As the nation recovers from the recession and foreclosures stabilize, America's housing market has a new thorn: Homebuyers are facing stiff competition to find available homes for sale.
Tonya Jones, who works as a real estate agent for Solid Source Realty, says the housing market is now both a blessing and a beast for those like her who earn their living selling residential properties. They sell and pray for another home.
"There's an inventory shortage. Finding affordable homes for sale, especially in South DeKalb, is increasingly more difficult," Jones said. "As soon as they go up for sale, they're gone. Just like that. "
According to a new Trulia report, the number of starter and trade-up homes on the market nationally has decreased over the past four years with inventory down most in the West and South.
The rising prices is causing homebuyer gridlock. The growing price spread between premium homes and trade-up homes in some markets is highly correlated with fewer trade-up homes coming onto market, the report said.
Alesia Harvey knows firsthand how competitive the housing market is right now. Harvey listed her 3-bedroom, 2.5-bath home in Stone Mountain on a Friday with Jones and had three offers for the full listing price of $125,000 within 24 hours.
"I couldn't believe it. My husband and I didn't expect it to go that quickly," Harvey said. We had done some upgrades to ensure that it was in move-in condition and we were hoping to get close to what we were asking. We didn't know, however, that we'd sell it for the actual price listed."
The Harveys, who had lived in their DeKalb County home for 20 years, moved to a bigger home in Gwinnett County for the schools there. Harvey said they found their search very competitive, even though homes in the community where they were looking were selling for in the $300,000s and up.
"When we found one that we wanted, we jumped on it. It was really a blessing because we didn't want to get into a situation where we were carrying two mortgages. We were thankful that we were able to sell our home and purchase our new home," Alesia Harvey said.
The Harveys had been looking for a home to buy for about a year.
Ashely Copeland, 29, said she had to put in three bids before she finally succeeded in putting a contract on the Ellenwood home where she has lived a year.
"I was pre-approved for $150,000 and I was getting so discouraged because I couldn't find anything. My apartment lease was going to end I didn't want to take out another lease. I didn't know what I was going to do," said Copeland, who found a home that had been listed on the market for one day. She said she knew she had to move quickly or she would lose the opportunity to buy it.
LaQuita Williams, who moved from Conyers to Covington, had a similar story.
"I spent about five months searching. After I lost a couple of bids, I came up lucky the third time. It's hard to find something nice when you're looking for a starter home," said Williams.
Jones blames the housing inventory shortages on corporate hedge fund investment groups such as the Black Stone Group (doing business as Invitation Homes), which purchased thousands of residential foreclosures in bulk buys.
"They were buying them, fixing them up and turning them into rental properties. You could see the Invitation Homes rental signs in communities everywhere at the height of the recession," said Jones. "Black Stone began unloading the homes to Altisource."
For example, in August 2015 alone, Altisource purchased 342 homes in communities in Lithonia, Stone Mountain, Decatur and Ellenwood, court records show.
Darold Honore`, who used to sell real estate full time, agrees hedge fund investment groups are partly to blame for the inventory shortages, but he said many properties also are still under water with owners owing more than the properties are worth.
"People are just sitting on them because they can't get what they've bought them for—let alone sell them for a profit," said Honore`, who now works as an agent for Farmers Insurance full time and does real estate part time.
The former Lithonia mayor said he is hopeful, though, that there will be a turn around in the housing market. He points to the construction that has resumed at the Oak Leaf townhome development located within the city of Lithonia.
"Activity there has picked up. With homes in the $180s, young people want them. They're not interested in the big, luxury homes and cars that the baby boomers went after to show their success. The millennials would rather travel and enjoy life than pay a big mortgage," Honore` said. "We're glad to have them and any other homeowners to help with our tax base. We need them."
Jones says although the affordable homes market might look bleak, there are still ways to become a home owner.
"First, get approved for a home mortgage so that you know how much home you can afford. Next, work with an experienced real estate professional who knows where the available homes are," said Jones. "For home sellers, the takeaway is to avoid foreclosure. Seek help from a HUD-approved housing counseling agency to keep your home or a licensed real estate professional to get your home sold. Mortgage companies are still foreclosing and selling homes to investors. This process will eventually cause areas like South DeKalb to become overtaken by corporate landlords instead of This process will eventually cause areas like South DeKalb to become overtaken by corporate landlords instead of stable homeowners."
Jones is hosting a free home buyer workshop Saturday, July 9 at 10 a.m. at the Porter Sanford III Performing Arts and Community Center, 3181 Rainbow Drive, Decatur. Register at homeownershipmatters.eventbrite.com. For more information call 770-369-5483.