Testingfg of Ads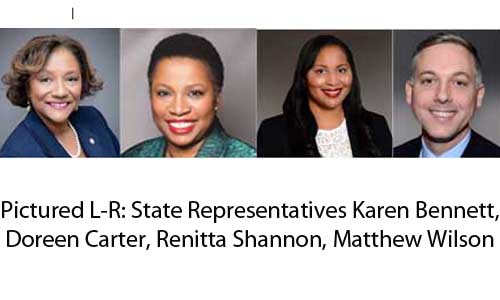 State Representatives Karen Bennett, Doreen Carter, Renitta Shannon, Matthew Wilson named from DeKalb County
ATLANTA – Georgia House Minority Whip David Wilkerson (D-Powder Springs) today announced the appointment of the House Minority Caucus Deputy Whip Team for the 2021-2022 legislative term.
"Each one of these Democratic legislators were carefully selected for their dedication to serving the caucus and its members, and I am confident in their leadership abilities," said Minority Whip Wilkerson. "We are devoted to championing our 'Healthy Georgia' 2021 legislative agenda, which includes addressing the state's response to COVID-19, fully funding our education formulas, closing the digital divide in rural communities, as well as expanding access to health care for all our residents.
Georgia Democrats are more unified than ever before, and I look forward to seeing what we can accomplish as our caucus works to help heal our state."
"I am excited and look forward to working in tandem with Minority Caucus Whip Wilkerson, the deputy whip team and the entire Georgia House Democratic Caucus leadership team to advocate for legislation that ensures the safety of Georgia citizens in their homes and communities," said State Rep. Debra Bazemore (D-South Fulton), who serves as the Minority Caucus Chief Deputy Whip. "I will also work to bring awareness to critical health issues among school-aged children and put an end to predatory practices targeting Georgia citizens on the path to homeownership."
The House Minority Caucus Deputy Whip Team for the 2021-2022 legislative term will also include State Representatives Teri Anulewicz (D-Smyrna); Karen Bennett (D-Stone Mountain); Rhonda Burnough (D-Riverdale); Doreen Carter (D-Lithonia); Spencer Frye (D-Athens); El-Mahdi Holly (D-Stockbridge); CaMia Hopson (D-Albany); Angelika Kausche (D-Johns Creek); Donna McLeod (D-Lawrenceville); Sam Park (D-Lawrenceville); Brian Prince (D-Augusta); Renitta Shannon (D-Decatur); Michael Smith (D-Marietta); Mandisha Thomas (D-Atlanta); and Matthew Wilson (D-Brookhaven).
Members of the deputy whip team are responsible for monitoring legislation as it moves through both chambers of the General Assembly and helping their fellow House members understand the details of bills and resolutions.