Testingfg of Ads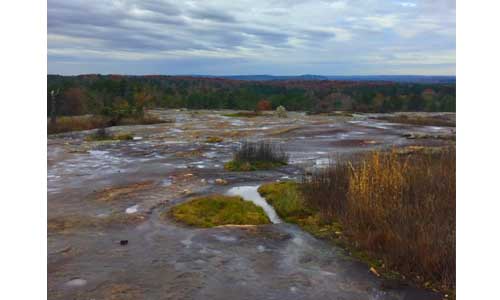 By Mackenzie N. Morgan
A blaze swept over a wooded area at the Arabia Mountain National Heritage Area in the City of Stonecrest on Sept. 17. The fire, which was reported around 1 p.m., covered nearly 3 to 5 acres of woodland in a remote area south of I-20. Authorities did not confirm a cause but said that hot temperatures and low rainfall were probably factors.
The DeKalb County Fire Rescue team worked relentlessly to contain the fire with help from the Georgia Forestry Commission, which brought in two planes carrying fire retardant and buckets holding up to 26,000 gallons of water dumped from the air.
"We need rain. It's been very dry," said Captain Dion Bentley of the DeKalb County Fire Rescue Department.
Bentley said that this was the first time that the Georgia Forestry Commission has helped put out a fire in the metro-Atlanta area. Due to the remote location, firetrucks weren't readily able to access the affected area, Bentley said.
"We were grateful to have their help because there really was no way for us to access the fire and keep putting water on it, due to its location," said Bentley.
DeKalb Fire and Rescue worked late into the evening checking for hot spots to ensure the fire did not resurface.
No injuries were reported and no structures were damaged, officials said.
This is not the DeKalb County park's first brush with wildfires. A wildfire torched roughly 10 acres back in 2016, officials said.
The park is open to visitors and programs planned for this month are under way, officials said.
Arabia Mountain is in east DeKalb, in the new city of Stonecrest. The Arabia Mountain Heritage Area Alliance was selected as a recipient of the Paul Nelson Award for Outdoor Recreation and Preservation at the 2019 Georgia Governor's Tourism Conference, which took place Sept. 8 – 11 at the Great Wolf Lodge & Conference Center in LaGrange, GA.
"We are thrilled to have received this honor and are excited to continue to promote the natural wonders of the AMNHA," said Mera Cardenas, executive director for the Arabia Mountain Heritage Area Alliance.
"It is a tremendous honor to be recognized by your peers. A lot of the work we do is not done in a vacuum. Partners such as the Davidson-Arabia Nature Preserve, the PATH Foundation among others help us bring Georgians and people from around the country out to explore the unique treasure we have," said Cardenas.