Testingfg of Ads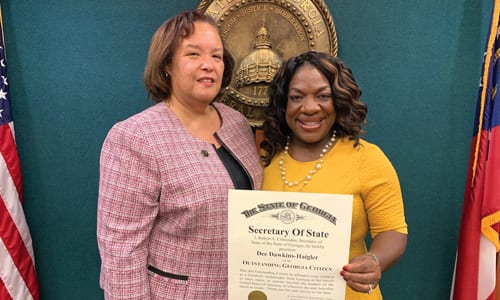 The Rev. Dee Dawkins-Haigler was recognized for her commitment to diversity and inclusion in the state of Georgia by interim Secretary of State Robyn Crittenden on Jan. 10.
Dawkins-Haigler said she was very honored to receive the Georgia Outstanding Citizenship Award presented by Crittenden, a history maker in her own right. Crittenden became the first African-American woman to serve as a statewide constitutional officer in Georgia history when by Gov. Deal appointed her to the position in November 2018 after Brian Kemp resigned as secretary of state to begin his transition as Georgia's newly-elected governor. As an attorney, Crittenden, for three years led the state government's largest agency, the Department of Human Services.
Dawkins-Haigler, a former state representative, has been a proponent of eradicating sex trafficking. She co-produced the docu-drama, "Black Girls Die Too: The Backpage Murders," which chronicled the murders of 14 black girls using the social media website, "Back Pages," which allowed sex for sale advertisement. 
Dawkins-Haigler, also a strong proponent of inclusion for minorities in the cannabis industry, has championed licensing for Black people around the country.
Dawkins-Haigler is the founder of the Organization of World Leaders which brings elected officials, business tycoons, physicians, attorneys, educators and philanthropists together from around the world to build relationships between Africa, the Caribbean, South America, the Middle East and the United States. In partnership with other organizations, she takes leaders to the continent of Africa and this year will be adding a component for Youth Global Ambassadors.